Dhaalu Atoll
Resort type:

Beach resort

Landscape:

Atoll, Oceanfront, Tropical Forest

What to do:

Culinary Tourism, Diving & Snorkelling, Boat Trips, Wellness Tourism, Historical & Architectural Monuments, Yachting & Sailing, Hiking, Surfing, Windsurfing & Kitesurfing, Shopping, SPA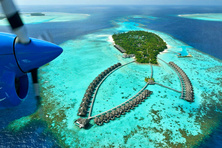 Dhaalu Atoll or Southern Nilandhe Atoll is one of the atolls in the Maldives, situated in the north of the Indian Ocean. The Atoll consists of seven populated places and 30 uninhabited islands of coral origin. An administrative centre is on the Kudahuvadhoo Island.
People come here to enjoy the isolation and quietness of such islands as Hiriyanfushi Island, Valla Island and Faandhoo Island. You can go swimming or snorkelling in the clean waters. There are a lot of coral reefs here, which makes the Dhaalu Atoll a perfect place for diving. The extreme tourists can also try kiting, sailing, water skiing, water scooter riding, windsurfing and yachting.
The ecological tourists will be admired by the oceanic landscapes and exotic plants. They will have a chance to watch the animals inhabiting the islands. One can take a cruise along the lagoon of the Atoll or go hiking in the palm groves.
On the Kudahuvadhoo Island, there are some clothes and food shops. But for a really great shopping experience you should go to Male. The best malls of the capital city of the Maldives are Alfa One Mall Ahmedabad and Instyla.
In the capital city, you can see such historical and architectural monuments as Friday Mosque and Sultan Park. Go to the Republic Square. On the Kudahuvadhoo Island, you can explore the ruins of ancient Buddhist buildings.
If you stay on the Dhaalu Atoll you will feel yourself much better thanks to a clean air and a favourable climate. A wellness centre Lime Spa offers to anyone a course of relaxing massage and toning spa treatments.
In the local restaurants, the foodies will enjoy seafood delicacies.
If you stay on this resort you will sleep all night long because there are no night entertainments here.