Alonissos
Resort type:

Beach resort

Landscape:

Mountains, Seacoast, Island, Cliffs, Flora of the Mediterranean

What to do:

Diving & Snorkelling, Natural Parks & Reserves, Boat Trips, Yachting & Sailing, Surfing, Windsurfing & Kitesurfing, Shopping, Nightlife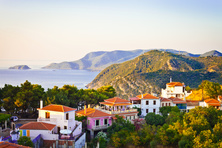 Alonnisos is a Greek island located in the Aegean Sea, east of mainland Greece. The resort is part of the island complex of Northern Sporades. Alonnisos is separated from the island of Skopelos by the Alonnisos Strait and from the island of Pelagonisi by the Pelagonisi Strait. The island's capital city is the port of Patitiri.
The National Marine Park of Alonissos established to protect dolphins, monk seals and rare species of seabirds became the brightest landmark of the island. Native islanders offer boating tours during which visitors and their travel companions can see the seals.
A trip to Alonnisos is the choice for those seeking for quiet beach holidays. They are welcome to enjoy the popular beaches of Kokinokastro, Agios Dimitrios, Aponisos and Chrisi Milia.
Those who choose rather outdoor activities should consider the bay of Steni Vala where the best conditions for diving and yachting can be found. Alonissos Triton Dive Center, Alonissos Seacolours Dive Center and Ikion Diving Center offer their services to divers.
Those going in for educational tourism can explore the exhibits and collections of the Alonnisos Museum in Patitiri.
For shopping, pop into Zibacco and Athens Center in the Alonnisos capital.
Ostria Restaurant, Restaurant Archipelagos and Mavros Gatos in Patitiri are worth mentioning as the island's best restaurants. To find nightlife in Alonnisos, go to Drunk Seal Cocktail Bar or to Piano Bar Hayiati.