Dambulla
Resort type:

City resort

Landscape:

Town, Mountains, Lakes, Tropical Forest

What to do:

Aquaparks, Mountaineering, Cycling, Culinary Tourism, Golf, Mountain Trails, Diving & Snorkelling, Natural Parks & Reserves, Casinos, Horse Riding, Boat Trips, Wellness Tourism, Historical & Architectural Monuments, Gliding & Paragliding, Amusement Parks, Yachting & Sailing, Hiking, Caves, Fishing & Spearfishing, Surfing, Windsurfing & Kitesurfing, Festivals & Carnivals, Shopping, Nightlife, Zoos, Oceanariums & Dolphinariums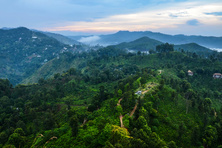 Dambulla is a large city in Sri Lanka in Matale District and Central Province. It is situated in the very centre of the country 148 kilometres away from Colombo and 72 kilometres away from Kandy.
Thanks to a complex of old cave temples and archaeological sites this city is an important centre of the excursion tourism. The tourists will see the Golden Temple of Dambulla which is a historical and architectural monument under UNESCO protection. Excursion tours to the main sights of the province are also arranged for the tourists. The most interesting are a sacred town Kandy and the Ancient City of Sigiriya. These sites have been inscribed on the UNESCO World Heritage List.
The ecological tourists will surely enjoy their time in Dambulla and its nature. One can take a tour to the national parks such as Wasgamuwa and Angammedilla. You can also go hiking in Knuckles Conservation Forest.
If you want to get an adrenaline rush, there is a wide choice of activities from paragliding, hang-gliding, rope jumping, climbing to parachuting and an air-balloon flying. Biking, horseback riding and trekking are also very popular among the active tourists. If you prefer beach holidays you will have a chance to relax on the coasts of the Indian Ocean in Batticaloa or Udappu. There is everything you need for such water activities as kiting, yachting, diving and windsurfing.
A favourable ecological situation and climate make Dambulla a good destination for a wellness tourism. A wellness centre in the hotel Thilanka Resort&Spa offers spa treatments and a relaxing massage.
The malls Colombo City Center, Liberty Plaza Shopping Complex and Odel welcome everyone to make purchases.
The foodies should definitely visit such restaurants as Sakura, Gimanhala and Sri Krishna Bhawan.
At night, only some bars in the hotels open their doors.