Dar es Salaam
Resort type:

Beach resort

Landscape:

Town, Lakes, Oceanfront, Riverside, Tropical Forest

What to do:

Diving & Snorkelling, Natural Parks & Reserves, Fishing & Spearfishing, Surfing, Windsurfing & Kitesurfing, Shopping, Nightlife, Tennis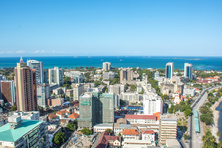 Dar es Salaam is one of the largest cities, a port in Tanzania and a centre of Dar es Salaam Region. This resort city is situated in the east of Africa on the coast of the Indian Ocean.
The lovers of the ecological tourism often come to this city because Dar es Salaam is a starting point for the journey to numerous national natural parks of Tanzania, Zanzibar, Pemba and Mafia. In the reserves, the tourists can watch typical Tanzanian animals.
The city itself is located in a picturesque bay. Beautiful and comfortable beaches surrounded by the baobabs or mango trees attract the lovers of beach holidays and families. The active tourists can go diving, surfing, fishing, play tennis or squash.
If during a journey it is important for you to study the history and architecture of the country, you can take an excursion tour. You will see a unique combination of local building traditions and Arabic, German and British architectural styles. During some of the excursion programs, a guide will tell you about the cultures and traditions of the local population.
After excursions take a walk in a very beautiful Mkomazi National Park.
Shops and malls in the city welcome everyone.
The best restaurants and nightclubs are found on the Indian Street.