Delaware
Resort type:

City resort

Landscape:

Swamp, Oceanfront, Plain, Riverside, Mixed Forest, Hills

What to do:

Culinary Tourism, Golf, Diving & Snorkelling, Natural Parks & Reserves, Wellness Tourism, Historical & Architectural Monuments, Gliding & Paragliding, Amusement Parks, Yachting & Sailing, Hiking, Rafting & Kayaking, Surfing, Windsurfing & Kitesurfing, Festivals & Carnivals, Shopping, SPA, Nightlife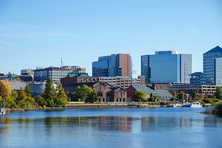 Delaware is an American state with a total area of 6.445 square kilometres which is situated in the northeast of the Delmarva Peninsula. It has access to the Atlantic Ocean. Delaware borders Pennsylvania State, New Jersey State and Maryland State. Dover is an administrative centre of the state.
The lovers of beach holidays should stay on the Rehoboth Beach which is known for its cozy embankment, noisy entertaining centres and a well-quipped coastline. The active tourists can play golf on such fields as Rehoboth Golf Park or King's Creek Country Club. If it is a nightlife you are after, then you can go to a club Ocean. Parasailing, kiting, yachting, kayaking, diving and windsurfing are very popular among the extreme tourists.
A local centre of ecological tourism arranges trips to Bombay Hook National Wildlife Refuge. The tourists also like to take a walk along the shores of the Delaware River or go hiking in the country.
Take an excursion trip and you will see the main historical and architectural monuments of Delaware. For example, Nemours Mansion and its Gardens, John Dickinson Plantation, Fort Delaware and Saint Anthony of Padua Church.
Dover and Wilmington offer a lot of city entertainments. There you can go shopping at the malls Dover Mall and Concord Mall.
Firefly Music Festival and Delaware Wine & Beer Festival attract many tourists to the state every year.
Wellness centres in the capital city such as Tranquil Spirit and Toppers Spa welcome everyone who cares about his or her health. You can have relaxing or toning spa treatments.
The restaurants Harry's Seafood Grill, Harry's Savoy Grill and Feby's Fishery serve delicious seafood.