Dilijan
Resort type:

Country resort

Landscape:

Town, Mountains, Broadleaf Forest, Lakes, Riverside, Coniferous Forest

What to do:

Mountaineering, Cycling, Culinary Tourism, Natural Parks & Reserves, Wellness Tourism, Historical & Architectural Monuments, Hiking, Rafting & Kayaking, Surfing, Windsurfing & Kitesurfing, Thermal & Mineral Springs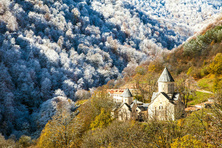 Dilijan is a small Armenian town in Tavush Province. It is situated on the shores of the Aghstev River in the northeast of the country not far from the Lake Sevan. It is 36 kilometres away from Vanadzor and 99 kilometres away from Yerevan. The total area of the town is 13 square kilometres.
Being an alpine climate and balneological resort, Dilijan attracts the lovers of a wellness tourism. The waters of the local mineral springs have a favourable effect on the health and are considered to be as useful as the waters of Borjomi. The tourists can stay in Impulse Sanatorium or Dilijan Sanatorium. A clean air and a favourable climate are recommended for the people with respiratory tract diseases.
The town will not disappoint those who loves to explore historical and architectural monuments. Take a walk across Dilijan and you will see Haghartsin Monastery, Matosavank Monastery and the local Town Hall. Among some other interesting sights are saint Sargis Chapel, Berdavan Fortress, Tavush Fort and Makaravank Monastery.
The out-of-town territory is surrounded by Dilijan National Park. The ecological tourists will enjoy the beauty of yew groves, beech woods and mountain lakes. The main sight of the Park is a picturesque Haghartsin Canyon.
The shopping lovers will probably be disappointed as there are not many shops here. However, you can go the malls in Vanadzor such as Round Store and OnlinePlus. You will sure sleep all night long in Dilijan as there are no night entertainments. In the restaurants Getap and Haykanoush, the tourists will treat themselves to the traditional Armenian dishes. An event tourism is not popular here. The main event in the town is Dilijan Carpet Festival.
The extreme tourists can try their hand at climbing and canyoning. Group hiking and mountain biking tours are popular among the tourists. The local rivers are perfect for rafting. Anyone can go to the Lake Sevan for kiting and windsurfing.