Drama
Resort type:

Country resort

Landscape:

Town, Mountains, Seacoast, Riverside

What to do:

Mountaineering, Cycling, Downhill Skiing, Natural Parks & Reserves, Horse Riding, Historical & Architectural Monuments, Gliding & Paragliding, Hiking, Caves, Surfing, Windsurfing & Kitesurfing, Snowboarding, Festivals & Carnivals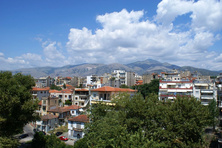 Drama is a Greek city and an administrative centre of Drama Regional Unit. It is situated in the northeast of the country between the Bulgarian border and the coast of the Aegean Sea. It is 145 square kilometres away from Thessaloniki and 650 square kilometres away from Athens.
Surrounded by the Menikio Mountain, the Orvilos Mountain and the Falakro this city is a perfect destination for the ecological tourism. The tourists will enjoy nature here, green meadows, caves, and rivers. Take a walk in Elatias Forest and you can watch the birds inhabiting it. Everyone can also take a tour to Rhodope Mountains National Park. Many tourists want to go and see Aggitis Cave.
Make your journey even more interesting and explore historical and architectural monuments of the city. The most famous of them are Drama's Castle and Holy Church of Dormition of Holy Mary. Excursion tours around the Unit are arranged and they include a visit to Holy Church of Saint Paraskevi and Monastery of the Transfiguration of the Christ.
The lovers of beach holidays should go to neighbouring Kavala. On its coast, you can sunbathe and have some lazy time. There is a wide choice of activities for the extreme tourists. They can try their hand at parasailing, windsurfing, water skiing, kiting, diving, and yachting. In the suburb of Drama, you can go climbing, trekking, canyoning, biking, and paragliding. In winter, the tourists can go skiing and snowboarding in the Falakro.
A mountain air and a favourable climate attract those who prefer a wellness tourism and want to improve their wellbeing.
Drama International Short Film Festival attract many tourists every year.
If you like shopping you will probably be disappointed as there are no malls. At night, you can go to some bars.
The foodies will enjoy good Greek food in Mpes Kai Pies.