Romania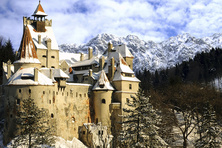 Romania is a country in Southeast Europe on the Balkan Peninsula. It borders Bulgaria, Moldova, Ukraine, Serbia and Hungary and the country is washed by the waters of the Black Sea. It has access to the Atlantic Ocean through the Strait of Gibraltar and to the Indian and Pacific Ocean through the Suez Canal. The capital of the country is Bucharest.
Romania has a climate that is temperate and continental. Only the south-eastern region has a temperate and maritime climate. Here the winters are warmer and summers are not very hot than in the other part of Romania. The average temperate in January varies from +2 to -4°C and the average temperate of July is +18-+26°C.
You can visit Romania all the year round. In winter, tourists can go to ski resorts and in summer enjoy carefree beach holidays. In spring and autumn, go for interesting excursions.
Romanians comprise about 90% of the population. The official language of the country is Romanian. The Romanians are mainly Orthodox Christians.
In Romania, there are beach and ski resorts, national parks for the lovers of ecotourism. Black Sea Coast attracts the fans of diving and monasteries and castles will impress those who love historical monuments. Wonderful balneological Romanian resorts accept tourists from all over the world. 
The capital city Bucharest is located in the historical region of the country Wallachia. As the city itself, Wallachia has a lot of ancient architectural monuments such as castles, monasteries and churches.
World popular Transylvania is famous not only for its Dracula Castle but also for its amazingly beautiful nature. In this part of Romania, mountains intertwine seamlessly with thick forests, waterfalls and deep rivers. Transylvania is called Switzerland of Eastern Europe because there are many ski resorts here.  
In the Southern Carpathians, there are unique balneological resorts. Not far from the city of Dobrogea, there is the oldest beach with mud baths Mamaia.  
Get in
By Plane
Flight is the most convenient and comfortable way to get to Romania from CIS and EU countries. There are regular flights from the European capitals and large CIS cities. Russian and Romanian air lines offer flights to Bucharest twice a week.
By Train
You can get to Bucharest from Moscow by train with a transfer in Ukraine. A trip by train will save your money if you travel with a transfer in Chernivtsi or Kishinev. For tourists from Russia, the train between Moscow and Kishinev is available.
By Bus
International buses regularly run from Ukrainian and Moldova border towns to Romanian cities. 
By Ferry
Bulgaria and Romania are connected by ferry lines across the Danube river and the Danube bridge 2  connecting Bulgarian city Vidin and Romanian city Calafat.
Cuisine
The national Romanian cuisine has been greatly influenced by the Ottoman and French cuisines. Vegetables and corn are the staple of the Romanian cuisine. Boiled cornmeal or Mamaliga is a favourite dish of the Romanians. It is usually served with a flatbread Malai. 
Ciorbă is a traditional thick Romanian soup. There are a lot of different recipes of this soup but one thing always remains the same. The soup should be a bit sour because kvas, pickle juice or kefir is used.
Meat is traditionally served with vegetables in Romania. One of the most popular Romanian dishes is  Sarmale (minced meat with rice, wrapped in either pickled cabbage leaves or vine leaves). Chefs like to cook legumes, especially beans. They make a paste or a puree with fat. Vegetable salads are dressed with sour cream and chefs also add cheese Branża or boiled eggs.
Romanian chefs are very good at cooking meat. We recommend trying mutton roasted with garlic, Drob (a lamb haggis made from minced organs) and Tocană (meat stew with vegetables).
Those who have a sweet tooth can treat themselves to traditional Romanian desserts such as Romanian cheese pie with sugar, buckwheat pancakes Alivenci with different fillings and Cozonac which is a kind of Stollen.
In Romanian villages tourists can try a home-made alcoholic plum drink Țuică. In Romania, beer Ursus and famous wine Furmint are produced.    
Details of interest
Sightseeing in Romania
In Romania, the tourists will see the UNESCO sites. Six of the sites are included by cultural criteria and the seventh site, Danube Delta, is a natural monument and an amazingly beautiful natural phenomenon.
Villages with Fortified Churches in Transylvania are seven farms founded by Transylvanian "Saxons".
The Monastery of Horezu and surrounding mountains is one of the Romanian treasures.
Church of Resurrection of Sucevita Monastery contains a valuable collection of religious artifacts and icons.
Wooden Churches of Maramureş.
Dacian Fortresses of the Orăștie Mountains combine the military and religious architecture.
In Bucharest, tourists can see the Palace of the Parliament the size of which is second only to the Pentagon.
After the rule of Ceaușescu, the Bucharest Cathedral survived by miracle. The city is filled with museums and the most extraordinary is the Museum of Lard which occupies the territory of 17 ha.
Transylvanian city of Brasov is famous for its Gothic Black Temple. Sighisoara is the place where Vlad Ţepeş was born who became a prototype of Dracula by Bram Stoker. 30 km of Brasow, there is the Bran Castle.
In Bucovina, you can enjoy monasteries decorated with biblical frescoes.
Do not miss a chance to take pictures pf ice lakes in Transylvanian Alps.
Romanian Souvenirs
Bring from your trip to Romania porcelain dishes, cups, and saucers. There is a great variety of porcelain souvenirs in Angst supermarket in Bucharest.
In the older part of Bucharest you will find Glassblowers' Yard. The craftsmen make unique things from colored glass.
In Bucovina, pottery masters create wonderful pottery.
Traditional Romanian souvenirs are hand-made colored eggs and icons on the glass.
Tourists cannot resist the temptation to buy souvenirs with Dracula. You will find his image everywhere on the magnets, T-shirts and key chains.