Sint Eustatius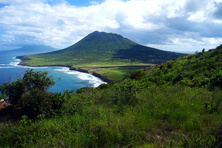 Sint Eustatius is an island in the Caribbean Sea, part of Bonaire, Sint Eustatius and Saba, the Dutch Caribbean. It has no land borders. The nearest neighboring state is Saint Kitts and Nevis. The capital and the only city is Oranjestad.
The climate is tropical marine influenced by the trade winds. Variations in temperature are minor throughout the year, which makes the island suitable for spending holidays in any season. But travelers should keep in mind that hurricanes can occur from July to October.
The official language is Dutch, but almost all the islanders speak English. In religious matters, Protestantism represented by several denominations prevails. Catholic church has much influence as well.
Sint Eustatius became popular as a beach resort. Thousands of tourists visit every year the small Caribbean island to spend holidays on Zeelandia Beach, Oranje Bay Oranjestad Beach and Lynch Beach. The coastal waters are quite suitable for diving and windsurfing. There are two dive sites on the island: Scubaqua Dive Center and Golden Rock Dive Center.
As a break from watersports, tourists may go hiking about the island's hinterland. Some picturesque paths run across the tropical forest and the flanks of an old volcano. The Quill / Boven National Park is spread out from north to south of Sint Eustatius. It's hardly worth going to the island just to see these two nature reserves, but the natural beauty of the place will certainly mix up your beach recreation.
Owing to the island's small area, there are practically no manmade attractions. Those who enjoy visiting historical and architectural sites will hardly satisfy their wants after seeing two old cannons at so called Fort de Windt.
Get in
Airplane
The only airport located on the island is F. D. Roosevelt Airport that allows connections between Sint Eustatius and Saint Maarten, a neighboring island. The latter is served by many major airlines that daily bring in tourists from across the world.
By boat
There is no regular boat or ferry service to Sint Eustatius. However, cruise liners that cross the Caribbean are a way to shuttle between the numerous islands of the region.
For yachties, anchorage is available at Oranje Bay.
Visa
Those visitors to Sint Eustatius living in the European Union / European Free Trade Association countries, Canada, Balkan States, United States, Moldova and some other countries can visit the island visa-free for 30 to 60 days. Those holding a valid residence permit of a Schengen country, Canada, European Netherlands. Ireland, United Kingdom and United States are exempted from the visa requirement as well.
A so called Caribbean visa is required for tourists coming from a CIS country, provided that they are not exempted from that requirement. The visa can be obtained from a Netherlands Visa Application Center. Note that you should apply in person. Actual processing terms vary from two to four days, but in some cases it can be up to three weeks.
Customs
No restrictions apply to the import or export of local or foreign currency; however, amounts exceeding USD 10,000 must be declared.
May be imported into Sint Eustatius duty-free:
Small quantities of tobacco and alcoholic products
Perfumes
Personals within reason
Other goods (up to a value of USD 500)
Prohibited:
Haitian leather products
Dutch and Surinamese silver goods or coins
Tourists are prohibited from exporting articles which are of historical or artistic value, including objects found on the seabed.
Cuisine
Statia's cuisine is in many ways similar to culinary traditions of the other Caribbean islands whilst a little more shaped by Dutch gastronomic moods. Fish and seafood basically feature in the islanders' food.
Owing to the island's small area and a lack of pastures, there's no animal farming as such; for this reason, meat dishes have long been a delicacy. It's only in the past decade that meat is no longer exotic to the islanders. Now tourists and their travel companions are offered Cabrito Stob (lamb or goat stew with vegetables), Kami Stob (beef stew), Bitterbal (meat balls), Ayakashi (meatloaf) and Galina (roasted poultry meat).
On your island vacation you can try the iguana soup, Hobie Duchi (cactus soup with pork, fish or shrimps) and Kalalu (a traditional Caribbean soup with vegetables comprising taro leaves, stewed meat of fish).
Fish and other seafood are the most popular products in Sint Eustatius. Foreign visitors to the island will be offered charcoal-frilled snappers and barracudas, salt cod and chargrilled seashells, boiled shrimps and fish balls. Special mention should be made of Soapy Kami Piska (fish soup with bananas), Soapy di Piska (fish boiled in coconut milk) and Keshi Yen (casserole made with cheese, beef, spiced fish, raisin and tomatoes).
When going on holiday to Sint Eustatius, you can count on some excellent desserts: Johnny Cake (a traditional Caribbean cake), Pudin di Coco (coconut pudding), Pan Bati (sweet pancakes), Shugar Cake (coconut and sugar mix), pies with guava, coconut and other fruits.
The islanders drink tea, coffee and fruit juices.
High-quality alcoholic drinks are presented mainly by imported wines and rather good local beers. If desired, rum and homemade liquors are also available from the locals.
Money
The US Dollar is the only official currency in Sint Eustatius; the Euro is not accepted. All major currencies can be exchanged at one the three banks located on the island.
The majority of local businesses don't accept credit cards, so visitors to the island should bring plenty of cash.
Plastic cards and traveler's cheques can be cashed at a bank. Also it will be no trouble to find an ATM.
We recommend that you bring your traveler's cheques in US Dollars.
Be aware that you may have difficulties when paying with bills in large denominations at stores, so think of change in advance.
Details of interest
Places of interest in Sint Eustatius
Although there are no UNESCO World Heritage sites in Sint Eustatius, the island has a number of very attractive landmarks.
The Quill / Boven National Park, a protected nature reserve covering more than a quarter of the island's area. The Park is home to several rare and endangered species. There is also a network of trails around the dormant volcano 'the Quill' offering a variety of hikes.
The Miriam Schmid Botanical Garden where visitors will learn more about the island's natural fauna and flora or, at the same time, simply relax in peaceful surroundings.
Fort de Windt with two rusty cannons and breathtaking views from the top of the cliff. This stone walled battery was an important defensive structure for the island.
The Crater with a lush tropical rainforest offering an amazing hiking expedition that attracts hundreds of visitors to Sint Eustatius.
The Si. Eustatius Historical Foundation Museum located in the center of Oranjestad, where visitors will learn about the exceptional history of this Caribbean island.
The Honen Dalim, an abandoned synagogue, the second-oldest one in the western hemisphere.
Old buildings in the city center that provide an example of the past colonial heritage.
A hundred sunken ships off the west coast that scuba divers are invited to explore.
Souvenirs from Sint Eustatius
You can bring back home some pretty gifts:
Locally made jewelry, paintings and prints;
Beer and rum;
Postage stamps.