Slovakia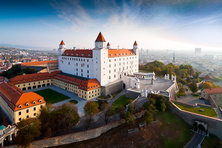 The Slovak Republic is a country in Central Europe and it borders Poland, Ukraine, Austria, Hungary and Czech Republic. The capital of the country is Bratislava.
The Slovak climate lies between the temperate and continental climate zones. In January the temperature in the mountain regions can reach -10°C and in the plains -4°C. We recommend visiting Slovakia either early in autumn or from late spring to the middle of summer. Winter months from December to February are good for a  holiday in the mountains. 
The majority of the population in Slovakia are Roman Catholics and Greek Catholics. The official language is Slovak.
Lovers of ski holidays should visit High Tatras,  Štrbské Pleso, Smokovec,  Tatranská Lomnica, Low Tatras, Donovaly, Ružomberok and the Carpathian Arc. These resorts offer perfect facilities for skiing, snowboarding and free riding.
In Wellness Spa Bardejovské Kúpele, Piešťany, Dudince and Rajecké Teplice, there are famous Slovak thermal and mineral waters. 
Those who like to spend time in the city and go shopping should visit Bratislava. There you will see the Bratislava Castle, the Church of St. Elizabeth or the Blue Little Church and the New Bridge. Staying in the capital, visit  St. Martin's Cathedral and Franciscan Square where the Mirbach Palace is located. Are you interested in historical and architectural monuments? Then do not miss the opportunity to visit a Gothic museum Thurzo's House and Leaning Tower in Banská Bystrica.
If you enjoy nature, we recommend visiting national parks of Slovakia such as High and Low Tatras. Slnecne jazera or Sunny Lakes are the best place for snorkeling and diving. Visit Bielsko Caves, Demänovská Cave of Liberty in the Low Tatras. Inspire yourself with fishing on the shores of the Danube and Hron. You will enjoy rafting on the Belá and Vah rivers.  
Get in
Flight is a quick and comfortable way to get to Slovakia from Russia.
By Plane
Utair offers flights from Moscow to Bratislava. Aeroflot offers flights to Bratislava through Europe with a transit in Vienna (Austrian Airlines) and Prague (Czech Airlines). In winter, there is a charter flight from Moscow to Poprad.
By Train
A train runs between Moscow and Bratislava with a stop in Kiev. From Moscow you can get to Košice and Žilina. Tourists from Kiev go to Bratislava by train with a transit in Vienna.
In Slovakia there are transit train routes Poland-Hungary.
By Bus
International buses run between Bratislava and EU countries.
By Car
Drivers who want to have a holiday in Slovakia can choose a route Moscow-Minsk-Brest-Katowice-Zwardoń-Čadca-Bratislava. 
Cuisine
Authentic Slovak cuisine is simple but substantial. Local cuisine is famous for its dumplings, knedľa, cheese, beer and wine. 
Chicken and pork are the most popular meat. We recommend trying Spišska pochut'ka (meat goulash with potato pancakes and mushrooms) and Pečené vepřové koleno (roasted knuckle of pork). Roasted duck with sauerkraut, roasted goose with dumplings, pates from the game, Slovak goulash, pork with asparagus and cheese. 
Soups are the hallmark of traditional Slovak cuisine. The locals will serve you savoury soups such as garlic, meat, mushroom and cheese soup. 
Slovak chefs especially like various types of cheese: Oštiepok (sheep milk cheese) and Parenica. Oštiepok is the main ingredient for Halushki (Halushki with Brynza and greens), Vyprážaný syr  (fried cheese) and Shepard's halushki.
If you like fish and seafood, you will enjoy pike balls with vegetables and roasted or baked salmon.
If you have a sweet tooth, treat yourself to Longoshe (fried dumplings with garlic) and fluffy Slovak pancakes with peach filling and fruit knedl'a.
The traditional low-alcohol drink is beer. The best sorts of beer are Šariš  and Topvar. Try Slovak wines such as Green Veltliner, Francovka and Limbach Silvan. Among strong alcoholic drinks vodka Slivovica and Borovička are popular.
Details of interest
You found fellow travelers and ready to go to Slovakia. Learn what places you can visit and what you can bring from this country for your family and friends.
Customs and Traditions of Slovakia
The locals are hospitable and friendly, they stick to European norms of behavior.
Sightseeing in Slovakia
Bratislava is the capital of the country and one of the most interesting historical cities in Eastern Europe. You can see famous architectural monuments such as Bratislavský hrad, the main Square, Presidential Palace and the Old Bridge. Visit St. Elizabeth's Church or Blue Church, St. Martin's Cathedral, the Old Town Hall and  Chatam Sofer Memorial. Go to the excursion along the Wine Road.
Trenčín is a magnificent castle built in 1069 in the mountains. Tourists can see the Matúš Tower, Barbara's palace and rotunda inside the castle. Also, visit a resort Trenčianske Teplice. 
In Wellness Spa Bardejovské Kúpele, Piešťany, Dudince and Rajecké Teplice, there are famous Slovak thermal and mineral waters.
Spišský hrad, the city of Levoca and monuments there are inscribed on the UNESCO World Heritage List.
In the city of Nitra, everyone can visit the Nitra Castle in the Old Town, the National Natural Reserve. Cathedral of the 14th century in Nitra is considered the most beautiful in Slovakia. The oldest church in the city is St. Stephan's church. Camaldolese Monastery is also worth attention.   
Wooden Churches in Slovak Carpathian,  Caves of Aggtelek Karst and Slovak Karst are under UNESCO protection.
Žilina is one of the oldest cities in Slovakia. Tourists can have a walk across the Marianske Square, visit St. Paul's Cathedral, St. Barbara's Church and Budatin Castle.
The High Tatras. Go to the highest peak in Slovakia the Gerlachovský štít and see the Frozen Waterfalls.
In Low Tatras, you can have a trip to the ghost castle in the city of Bojnice, see  Demänovská Cave, medieval city Spiš and thermal park Bešeňová.
In the city of Košice, walk across the Old Center and visit St. Elizabeth's Cathedral.
In Zvolen, you can see the Zvolen Castle.
Slovak Souvenirs
Wool bags, Slovak glass, dolls Supolka and famous bells can be bought in Bratislava.
In Košice, tourists buy forged products and old photos.
Buy Slivovica and other Slovak wines in Nitra, Topoľčany and Trencin.
You can buy wooden mugs, traditional musical instrument Fujara and traditional axe Valaška in all Slovak cities.