Slovenia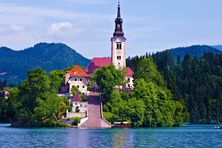 Slovenia is a country in the southern central Europe on the Balkan Peninsula. The capital of the country is Ljubljana. It borders Croatia, Hungary, Austria and Italy. In the western part, it has access to the Adriatic Sea.  
It has a mainly continental climate with several climatic zones: on the Adriatic coast the climate is Mediterranean, on the north-west it is Alpine and the east part is a Middle European area. We recommend visiting Slovenia in summer and until the mid of September. Visit Slovenian skiing resorts from December to March.
The majority of the Slovenians are Catholics. The official language is Slovene. 
If you are a fan of skiing, you will enjoy the trip to the Alps: Kranjska Gora, Mariborsko Pohorje, Bovec, Terme Zreče, Rogla, Cerkno, Kravavec, and Bohinj. In Planica tourists can ski during day time and at night. In Bohinj, you can also snowboard, sledge and ski at night.  Mariborsko Pohorje is famous for its longest ski trail in Europe. Rogla is the first Olympic center of the country. 
In Slovenia, there are world famous thermal and mineral waters: Radenci, Rogaška Slatina, Terme Čatež, Rogla, Dobrna and Terme Zreče.   
Adriatic coast is an ideal place for beach holidays. The most famous resorts are Izola, Koper, Piran, and Portorož. The Soča river in Bovec is popular among the lovers of rafting.
If you like country holidays, make a trip to the lake Bled and Bohinj or go hiking to the Triglav National Park.
If you are a city person, go to Ljubljana for sightseeing and a good shopping. You will be impressed by beautiful Slovenian castles such as Predjama castle, Haasberg castle, Dobrovo castle and Otocec castle. 
Get in
Plane is a quick and comfortable way to get to Slovenia from Russia and CIS countries.
By Plane
Aeroflot and Adria Airways offer daily flights between Moscow and Ljubljana. There are flights from some European hub airports (Vienna, Budapest, Venice, and Zagreb). From these cities, you can also drive to Slovenia by car.
By Train
There is a train route from Moscow to Ljubljana through Vienna, Venice, Budapest or Zagreb. Ljubljana has communication with Athens, Sophia, Belgrade, Munich, Rome and Trieste.
By Bus
A bus route to Slovenia is available from Russia, EU and CIS countries with a stop at Croatia or Hungary. We recommend against this way of traveling because the cost is the same as the price of a flight ticket.
Cuisine
In Slovenia, we recommend trying very delicious meat dishes such as jerked meat Pršut, Slovenian version of a kebab Radsnici, sausages with horseradish Kranjska klobasa and Slovenian pelmeni with mutton žlikrofi z Bacalza. Štrukli, dumplings with meat filling, have an unusual taste as well as Slovenian goulash in copper pots Bogracs and roasted meat with fat Tunka. 
Do not miss a chance to try second-course dishes such as Slovenian ravioli žlikrofi, potatoes baked with cottage cheese Čompe, boiled buckwheat rolls Žganci which are served with pork rinds or sausages and popular Slovenian dumplings. Slovenian pilaf has an amazing taste and it is made with shrimps, mussels and crabs.    
The tourists will surely like Slovenian soups, especially meat soup with sausages "cevapcici", beef soup Goveja juha and fish soup Ribji brodet. The king of all soups is the soup with porcini mushrooms Gobova juha which is served in a bread. 
Those who have a sweet-tooth will also enjoy Slovenian cuisine. The most popular dessert is a nine-layer pie Gibanica which is served on holidays. Try light and tender pancakes palacinka with cream and nut stuffing. Slovenian nut roll with honey and poppy seeds Potica is also worth trying. This pie is also known as Slovenian ambassador.
We cannot imagine authentic Slovenian local cuisine without Slovenian wines. We recommend Ptuj wine, Modri Pinot, Cviček, Majski Vrh and Hrastovec. If you look for stronger beverages, in Slovenia there is juniper vodka Brinjerec, plum vodka Slivovka, pear liqueur Pleterska Hruska and homemade vodka Wiljamovka. 
Details of interest
Sightseeing in Slovenia
You can't miss the excursion to the capital of Slovenia. In Ljubljana you will see the Ljubljana Cathedral which is the former residence of Slovenian feudals. Walk around the Old Square and have a look at medieval buildings such as the Plague Column, Schweigerjeva House, St. Jacob's Church, and Episcopal Palace. Of course, visit a very beautiful park Tivoli.
Idrija is one of the most ancient and typically Slovenian places. There, the tourists can see the Church of the Holy Trinity, Geverkenegg Castle where there is the Idrija Museum now.
You will get unforgettable impressions from your trip to the ice lake Bled with thermal springs.
Škocjan Caves  in Obalno-kraska are inscribed on the UNESCO World Heritage List.
If you stay in Maribor, have a walk around the Liberty Square, have a look at the St. Louis Church, building of the city hall and visit a city park with the terrarium.
You will be impressed by Slovenian thermal and mineral waters: Radenci, Rogaška Slatina, Terme Čatež, Rogla, Dobrna and Terme Zreče.   
Slovenian Souvenirs
Local hand-made wicker, knitting and pottery, embroidery and lace can be bought in Idrija. 
You will find wood carved souvenirs in Rybnik valley.
In Ljubljana look for crystal glass, Slovenian wines and beverages such as Wiljamovka, Hrastovec and Medica.