Spain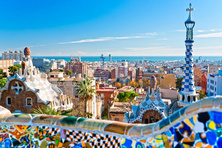 The Kingdome of Spain is a state in southwestern Europe. It is bordered by France, Portugal, Gibraltar, Andorra and Morocco. The capital is Madrid.
On the north of the country, the climate is mild and humid; on the southeastern coast it is Mediterranean; and in the interior, it is extremely continental. The main tourist flow goes on vacation to Spain in summer.
The official language is Castilian (Spanish); throughout the country, local languages and dialects which have a provincial status are widely spoken. Almost all the people are Catholics.
Spain is the main beach resort of Europe. Tourists spend their vacation in the provinces of Almeria and Guipuzcoa, also on Ibiza island, Majorca island, Minorca island, Formentera island and on Gran Canaria island of the Canaries. Vacationers are attracted by La Palma island, Lanzarote island, Tenerife island and Fuerteventura island of the Canaries. A good many travelers choose the beaches of Costa Blanca, Costa Brava and Costa del Azahar; Costa Dorada and Costa Calida, and also Costa Tropical, Costa del Garraf, Costa del Maresme and Costa del Sol.
A travel to Cadiz Costa de la Luz is a dream of kitesurfing fans. Diving is popular on El Hierro island of the Canaries.
Beautiful trails for downhill skiing are laid in Aragonian Pyrenees, Catalonian Pyrenees and in the mountains of Cetursa Sierra Nevada Ski Area.
Tourists and their travel companions will see ancient monuments in the provinces of Alava and Vizcaya, and in the towns of Badajoz, Bilbao, Vitoria-Gasteiz, Guadalajara, Irun and Llivia. The visitors in Spain would like to go for excursion to the towns of Pontevedra, San Sebastian-Donostia and Santillana del Mar; Zaragoza, Torrelavega, Teruel, Huesca and El Gordo.
Get in
Air Transport
The geographic location of Spain makes it an important link between neighboring continents. Spain is well served by cheap flights from all over Europe, the New World and Asia. The budget airline market is the most developed, with economy flights from the UK, Ireland, Germany and Italy in particular. Flights to Spain from outside of Europe mostly arrive in Madrid and Barcelona, with a few in Malaga and Valencia.
Overland transport
Though most visitors to Spain fly in, you can get to the peninsula by train from Portugal or France, though there are also direct trains (that come through France) from Switzerland and Italy. A bus with Eurolines is another way to travel to Spain. Finally, driving can be a convenient way to get to Spain and it can save you money, but it isn't always the easiest.
Cuisine
Spanish cuisine is considered to be one of the best known and most popular in the world. Every true esteemer of culinary tourism should take a trip to Spain at least once in his life. Meat, fish, olive oil and garlic are always used in practically every meal.
Vacationers should taste Jamon (raw cured ham), Cochinillo Asado (roast piglet), Jamon Iberico (Iberian ham) and Chorizo (spiced sausages). Poultry meat is as loved by Spaniards as the ham is. Among many recipes, should be mentioned a baked chicken with sherry, tomato or Chilindron sauce.
Soups are not very popular throughout the Kingdome, but the world famous Gazpacho (cold soup with raw vegetables and bread) and Olla podrida (stew made from pork and vegetables) are worthy of travelers' attention.
When on holidays on the Mediterranean coast, it is impossible to overlook such culinary specialties as Mojama (filleted salt-cured tuna), Espeto (fish grilled over an open wood fire) which is popular in Malaga, and Boquerones (anchovies prepared in olive oil). Vacationers will appreciate the taste of Zarzuela de mariscos, a fine mix with stewed sea foods and fish.
Cheese products are considered to be Spanish favorite appetizers. Especially, the people of the Kingdome love Queso de Cabrales, Queso de Tetilla and Queso Idiazabal.
In Spain, almost every meal begins with salads. Tourists should pay attention to the rich Ensalada de Mar (salad with sea foods), the flavorful Ajotomate (tomato and garlic salad) and to the refreshing Ensalada de Apio y Naranjas (salad with tomato, orange and celery). The best known Spanish dishes include, sure enough, the incomparable Paella (flavored mix with rice and chicken, sea foods and spice).
During their vacations in Spain, tourists should order the best known Spanish dessert Turron (confection made of honey, sugar and egg white with nuts). People having a sweet tooth will enjoy a delicate texture of Crema Catalana and Yemas de Santa Teresa.
The Kingdome's most common non-alcoholic beverage is Horchata, a sweet drink made from tigernuts.
Spain won worldwide fame for its delicious wines. Along with desert and classic wines, tourists and their travel companions should taste the Sangria (flavored dry red wine with fruits) and Aguardiente (Spanish equivalent of vodka or home-brew).
Details of interest
Places of interest in Spain
Spain is home to 44 UNESCO World Heritage sites, third in number only to Italy and China. Travel itineraries include visits to several of the landmarks in Spain awarded with the World Heritage denomination:
Alhambra, Generalife and Albayzin in Granada, remnants of the Moorish influence in southern Spain.
Burgos Cathedral, the burial place of Spanish national hero, El Cid.
Historic Centre of Cordoba.
Old Town of Avila with its extra-muros churches.
Garajonay National Park on the island of La Gomera, the Canaries.
Historic City of Toledo, a remarkable town briefly served as the capital of Spain.
Old Town of Caceres.
Cathedral, Alcazar and Archivo de Indias in Seville.
Real Monasterio de Santa Maria de Poblet in the province of Tarragona.
Archaeological Ensemble of Merida
Donana National Park in the province of Huelva.
Historic Walled Town of Cuenca.
La Lonja de la Seda in Valencia, a silk exchange construed in 1482–1548.
Las Medulas, a gold mine established by the Romans in the province of Leon, is very popular among tourists.
Catalan Romanesque Churches of the Vall de Boi in the province of Lleida.
Palmeral of Elche in the province of Alicante.
Roman Walls of Lugo
Atlante Ubeda y Baeza Turismo, masterpieces of architecture in the province of Jaen
Tower of Hercules in La Coruna, the most ancient lighthouse built by the Romans.
Almade, a town in the province of Ciudad Real, one of the world's most ancient mercury mining centers.
In addition to the above, travelers should visit several tentative sites considered for nomination for the World Heritage list:
Ribeira Sacra, a historical region in the provinces of Ourense and Lugo.
Mediterranean Wind Mills in the provinces of Alicante, Albacete, Murcia and Ciudad Real.
Cultural itinerary of Francis Xavier in the province of Navarra.
Dinosaur Ichnite Sites of the Iberian Peninsula.
Avid shoppers would enjoy in Spain such shopping destinations as Madrid, Barcelona, Seville and Valencia.
Spain offers some of the world's best night clubs. All night raves, dance music, house, techno and trance attract visitors from all over the world to the party islands of Ibiza, Mallorca and Spain's capital, Madrid on the mainland.
Spanish souvenirs
There is an ample selection of mementos from Spain as well as original gifts:
bull figures made of all sorts of materials;
castanets;
hand held fans;
leather coats, jackets, wallets and clutch bags;
wine;
cheese and Jamon ham.