Taiwan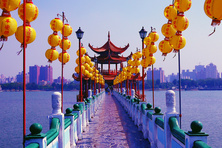 Taiwan is a territory in south-east China, formally under the jurisdiction of the PRC. The capital is Taipei. The northern part of Taiwan is bordered by the waters of the East China Sea; the southern part borders on the South China Sea; and the east borders on the Pacific Ocean.
The climate in north Taiwan is marine subtropical and the southern regions are tropical. During the short winter, the average temperature varies from 14 °C to 20 °C; and the hot and humid summer can be 26 °C. The best season to travel depends on what you're going to do. October and November are preferable for beach holidays; October and December to February are better for mountain hiking.
Almost all of Taiwanese believers are the adherent of Buddhism and Taoism. The official language is Chinese.
Those who are going on vacation for beach recreation should hold on for Kenting, Kaohsiung or Hualien. Keelung located north of Taipei boasts some excellent beaches. Perfect conditions for diving can be found off the Green Island, the submerged reef of Chungliao and the Penghu Island. The east coast (Cheng-Gong, Bashien Dong, Dock Bay) is ideal for surfing. The outskirts of Taipei became famous for fishing docks.
Those visitors preferring country resorts should pay attention to the Leofoo Safari Park with the largest statue of Buddha in Nirvana standing there. In Taichung, you will explore the Sun Moon Lake, located at the height of 2,650 m; will see the life of the village of Shao people and visit the city of Hualien. A 3000-year-old eastern cherry tree overtops the Alishan Mountains where the mountaineering facilities are well-developed. Ecotourism enthusiasts will get excited visiting the natural reserves of Yangmingshan, Taroko and Kenting; also they can make a tour of the Orchid Island or Green Island.
Those tourists looking for big city nightlife and shopping experience should take a journey to Kaohsiung and Taipei.
Get in
A flight is the fastest and most convenient way to reach Taiwan from EU and CIS countries.
Airplane
Taiwan Taoyuan International Airport, located 40 km to the south-west of Taipei is the main international gateway to the country. The airport has good connections to major Asian cities and North America.
Russian tourists and their travel companions can get to Taiwan through several Asian and European hub airports: Bangkok, Seoul, Hong Kong, Singapore, Tokyo, Rome or Amsterdam. There are also regular flights to and from mainland China.
By ferry
There are regular ferry services between Taiwan and Japan.
Visa
European travellers don't have to obtain visas to enter Taiwan.
Nationals of Russian Federation or a CIS country travelling to Taiwan for tourism will need to apply for a visa.
The time period for issuing the entry permit is 5 days.
All visitors to Taiwan must present a valid foreign travel passport, along with a return ticket specifying the date of departure.
Customs
There are no restrictions on bringing foreign currencies in or out of Taiwan; however, the amount exceeding USD 10,000 (or its equivalent) must be declared. No more than TWD 40,000 can be brought in by each visitor unless a permit from the Central Bank is obtained in advance.
Travellers can bring in duty-free:
alcoholic beverages and cigarettes;
perfumery;
goods for personal use, which total value doesn't exceed TWD 20,000.
Vacationers are prohibited from importing:
toy guns;
printed products propagating Communism;
gambling tools;
silver and gold bars, precious coins;
fresh fruits;
unpreserved meat products and seafood;
plants;
animals (except for domestic ones).
Cuisine
Taiwanese cuisine is derived from mainland Chinese cooking traditions. Fish and seafood take pride of place in Taiwanese cuisine.
Tourists and those who had their heart set on taking this unique trip with them should try cashew shrimp stir fry, eel in peppercorn sauce, fish fried in peanut sauce and mushroom and crab meat stew. Gourmets will have a chance to taste the famous shark's fin soup, Xianyu fish soup, Ningbo-style eel and jellyfish salad. Many dishes are served with vegetables: sweet potatoes, bamboo shoots and bunching onions.
Locals are in love with pork and poultry meat. While on vacation, we recommend trying a steak with rice on the side, chicken marinated with onions, sweet and sour pork roast. Beef with oyster sauce and minced poultry meat with gingko nut sauce. Try such Taiwanese cooking classic as Chow mein (stir-fried noodles), Dan chao fan (egg fried rice), Mayi chang shu (pork with glass noodles) and Gong bao (fried chicken marinated in spicy sauce). Frog's legs are often used instead of poultry meat, which doesn't spoil the flavour of a dish.
Snake meat, dog meat, fried or sugared insects will be a real pickup for culinary tourists.
Green tea is considered to be a Taiwanese traditional drink. Taiwan is just the homeland of pearl milk tea (or bubble tea) prepared by mixing a tea base with tapioca or milk.
Those who have a sweet tooth can't resist tasting mooncakes, Spring rolls, sweet rice or turtle cakes.
Kinmen liquor made from kaoliang is thought to be classic in Taiwan. Also popular are stronger and larger rice beers, Shaoxing rice wine and Kaoliang liquor made from sorghum.
Money
The official Taiwanese currency is the New Taiwan dollar (TWD). Notes come in denominations of TWD 100, 200, 500, 1000 and 2000.
Taiwanese currency is fully convertible and can be exchanged internationally, but a much better rate will be offered upon arrival at Taiwanese banks, hotels or larger chain stores. Visitors should retain the exchange receipt when changing money, as an inverse exchange will be possible if the receipt is presented.
Visa and MasterCard are generally accepted at most hotels and department stores. By contrast, small stores don't accept cards, so cash money is the main form of payment.
As to traveller's cheques, the best of all would be to bring it in US dollars to avoid additional costs due to currency fluctuations.
Details of interest
Sightseeing in Taiwan
Museums and historical sites. The National Palace Museum in Taipei attracts those interested in Chinese culture and history. The museum hosts the largest number of ancient artefacts: antiquities, paintings and calligraphy works, rare books and documents.
The Hwa Kang Museum, located at the Chinese Culture University and the National Museum of History also exhibit Chinese and Taiwanese historical items and works of art.
One of Taiwan's earliest theme parks, the Window on China in Taoyuan city houses a number of scale models of world-famous buildings as well as exciting water slides and rides for visitors to enjoy.
A small resort town of Keelung located 25 km from Taipei is the place where tourists will see a statue of the Buddhist Goddess of Mercy. Don't forget about the Leofoo Theme Park which combines both Amusement Park and Safari. The largest statue of Buddha in Nirvana stands there.
Taiwan is also home to some stunning landscapes. Those who take a time to venture to the East Coast will find there the Taroko Gorge, an impressive 19-km long canyon near Hualien city. The area of the gorge is the part of the Taroko Gorge National Park featuring a lot of different hiking trails.
The emerald waters of Sun Moon Lake, the largest freshwater lake in Taiwan, attract tourists from all over the world. This is an enchanting destination filled with mysterious scenery and featuring lots of attractions.
One of the things to do in Taipei should be visiting the Taipei 101 Tower, which was the tallest building in the world until 2010. With a height of 508 metres, the Tower offers the marvellous views of the capital and a diner at the highest restaurant in Taiwan.
Souvenirs in Taiwan
pottery and porcelain products from Taipei;
stone carvings from Hualien, Taiwan's biggest hometown of various stones;
sorghum wine from Kinmen, known for its sorghum-based liquors.