Turkey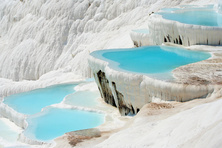 Turkey is a unique country at the crossroads of Europe and Asia. The capital of Turkey is Ankara. Its neighbouring countries are Georgia, Azerbaijan, Armenia, Iran, Syria, Bulgaria and Greece. The territory of Turkey is washed by the waters of the four seas: Black Sea, Mediterranean Sea, Aegean Sea and the Sea of Marmara.
The climate in Turkey varies from temperate to subtropical Mediterranean. The best time for beach holidays in Turkey is from May to October. Spring and autumn is a good period for excursions, visiting architectural and historical sights.
The official language is Turkish. The majority of the population practice Islam.
The tourists who like city entertainments and a good shopping should go to Istanbul, Ankara or Izmir where they can also see unique cultural monuments and architecture.
Bodrum and Marmaris offer everything you need for a good beach holiday.
The popular ski resorts are Kartepe and Uludag. The tourists who seek interesting country entertainments will enjoy a trip to the Köprülü Canyon National Park in Alanya and Dyuzlershamy Mountain Park Preserve near Alanya.
Istanbul is the city where you can enjoy religious sights and unique old buildings. An iconic place in Istanbul is Hagia Sophia built in the 5th century. Today this is an Ayasofya Müzesi which contains an invaluable collection of objects of art.
Get in
By Plane
The most convenient and easy way to get to Turkey for the tourists from CIS and EU countries is a flight.
There are direct flights from Moscow, St. Petersburg and other Russian cities. There are also direct flights from the airports of CIS and EU countries.
By Land
International buses run between Turkey and Eastern Europe.
The European tourists can take a car to get to Turkey as border crossing by car is available for neighbouring countries.
By Ferry
There is a maritime traffic between Turkey and the ports of the Black and the Mediterranean Seas.
Visa
Holidays in Turkey for the citizens of the Russian Federation are visa-free, but their stay in the country is limited to the sixty days (and ninety days within half a year).
Visa requirements are different for the tourists from different countries. The travellers from Ukraine, Kazakhstan and Belarus can go to Turkey without obtaining a visa provided that their stay in the country is not exceeding one month.
The citizens of EU countries can also come to Turkey without a visa.
The travellers from the Eurozone and CIS countries can submit a visa application online.
Customs
Foreign and national currency can be imported and exported without any restrictions. If the sum of the money the tourists bring to the country exceeds 5.000 US dollars (or equivalent), the money must be declared.
If the tourists export a large sum of money from Turkey in Turkish liras, they must confirm the legality of the money.
The tourists can import to Turkey duty-free tobacco, alcoholic drinks, perfume and souvenirs (the total cost should not exceed 255 Euros).
Import of electronic devices and sports equipment is limited to 1 item or a set per each traveller.
All the jewellery must be declared.
It is prohibited to export antiquities including antique rugs of special value.
Cuisine
Turkey is a true paradise for all food lovers. The travellers will be offered a limitless number of substantial meat and fish dishes prepared to traditional Turkish recipes.
Meat dishes are always served with cold appetisers and vegetable salads, fresh bread, flatbread and baguettes.
Eggplants are a very popular ingredient in Turkey. The local chefs bake it, make mashed eggplants and add to other dishes.
If you are in Turkey, have an advantage of trying şiş kebap and Iskender kebap.Typical Turkish dishes are bulgur pilaf and Turkish manty Rikla with yoghurt sauce, cayenne pepper and herbs.
You will surely enjoy an unusual taste of Tavuk göğsü (a chicken breast cooked in milk with rice flour and sugar).
In Turkey, you can treat yourself to seafood and fresh fish (sea bass, mullet, squid, mussels and oysters).
For a dessert, you will be served fruits and sweets. Try Baklava, halvah, fruit scherbets, milk rice pudding Sütlaç, and candied chestnuts.
The travellers can participate in testing traditional alcoholic drinks such as Turkish anise-flavoured vodka Raki and local sweet wines. Such wine brands as Doluca Antik, KavaklIdere Cankaya, KavaklIdere Angora, Majestik can compete with the best wines of Europe and South America.
The Turks traditionally finish their meals with a strong black coffee.
Money
The national currency in Turkey is Turkish lira.
In circulation are the banknotes from 5 to 200 TRY and coins from 1 kuruş to 1 TRY.
The tourists can make payments in Turkey with US dollars, Euro and sterling pounds.
You can exchange currency at banks, in exchange offices, large hotels, stores and even on the market. Usually, the exchange rates in state banks are more beneficial than in hotels and stores.
On the resorts, international credit cards are accepted.
There are many ATMs in Turkey but be aware that there is a limit for money withdrawal and a commission (5-7%).
Traveller's checks are accepted in large touristic cities. We recommend having checked in US dollars or sterling pounds.
The tax-free system is widespread in Turkey. To refund the VAT, the total sum of your purchase should be, at least, 85 US dollars (or equivalent). To get a tax-free check, you need to have a passport.
Details of interest
In Turkish resort cities, the tourists will find both discos and bars and places where they can listen to a traditional folk music, see a belly dancing and different performances.
Each year, Turkey holds great festivals such as International Jazz Festival in Istanbul, which takes place in July; Istanbul Film Festival and International Music Festival of Anatolia in May.
September is the time for Istanbul Art Fair on which dozens of galleries show their works.
In December, the travellers can participate in the Mevlana Whirling Dervishes Festival.
Sightseeing in Turkey
There are 13 sites in Turkey, which are inscribed in the UNESCO World Heritage List.
Archaeological finds on Mount Nemrut is a complex of the Hellenistic period in Turkey.
Hierapolis-Pamukkale. Deriving from springs in a cliff almost 200 m high overlooking the plain of Cürüksu in the south-west Turkey, calcite-laden waters have created an unreal landscape, made up of mineral forests, petrified waterfalls and a series of terraced basins
Xanthos-Letoon is a former Lycian capital. In your trip to Xanthos, you will enjoy a unique combination of Hellenistic and Lycian cultures.
The City of Safranbolu is a heritage of the Ottoman Empire.
Edirne Selimiye Mosque was built at the place of an ancient Ottoman capital Edirne.
Neolithic Site of Çatalhöyük.
Bursa and Cumalıkızık is a place of birth of the Ottoman Empire.
Pergamon and its Multi-Layered Cultural Landscape.
Turkish Souvenirs
The best place for buying souvenirs is the Istanbul Indoor Market which occupies around fifty streets. The tourists look for Turkish rugs, pottery, copper coffee brewing pots, gold jewellery and leather products. On the Istanbul Spice Bazaar, the travellers can buy very good Turkish spices and on the Egyptian Bazaar, coffee and sweets are sold. Walking along the streets of Bodrum, visit the Bodrum Produce Market and buy sweets, national Turkish jewellery and amazing things made of onyx. In small shops, you will find cotton clothes, sandals and souvenirs.
In the settlement Chokmakdag which is near Bodrum, Turkish rugs of a very good quality are sold.
If you happen to stay in Alanya, go to the local markets.
Archaeological Site of Troy was believed to be just a myth for a long time. The town was discovered only in the 19th century and it was a unique discovery because the researchers found not only the famous Homer Troy but also an ancient town which was re-built 9 times. Do not leave Turkey without visiting legendary Troy.
Göreme National Park and the Rock Sites of Cappadocia has a unique landscape which was formed during 30.000.000 years.
Historic Areas of Istanbul include the Hippodrome of Constantine, Hagia Sophia and Süleymaniye Mosque. These sights will surely impress you.
Divriği Great Mosque and Hospital are the monuments of the Islamic architecture.
The Archaeological Complex Hattusha preserved the ruins of the imperial residences, churches and fortresses of the Hittite state.