United Kingdom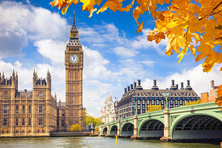 Great Britain, or the United Kingdom of Great Britain and Northern Ireland, is an island state situated in the northwestern part of Europe. The territory of the country is bounded by the Celtic Sea, North Sea, Irish Sea and the Sea of the Hebrides. It shares a land border with the Republic of Ireland. The capital is London.
A temperate oceanic climate of Great Britain is characterized by frequent rains throughout the year. The period from April to September is the best season for vacations in the country.
The official language is English. The great majority of people profess Christianity.
Great Britain offers to its visitors unique opportunities for amusements. Tourists choosing the vast spaces of England for their vacations will have a swim in the Serpentine lake, go rowing, horse riding, play tennis and football, visit local caves and take a boat tour to a subterranean river bed.
Beach tourism is well-developed on the islands of Jersey and Man, and in Scotland's coastal areas. Moreover, the resorts of Jersey will offer to active vacationers a chance to go diving, snorkeling, spearfishing, windsurfing, paragliding and waterskiing. Scotland is famous for its culinary tours to local whisky production sites.
Mountain hiking is organized in Wales and on the island of Guernsey. These locations are also popular among mountaineers.
To excursion tourism lovers we recommend sightseeing tours throughout Great Britain. London, the country's capital, is home to most of popular landmarks.
Nature enthusiasts and ecotourism lovers will enjoy national parks and scenic landscapes of Northern Ireland.
Shoppers and their travel companions should go shopping to Newcastle, York, Southampton, Liverpool and London.
Festivals and holidays in London or in Edinburgh are popular among enthusiasts of event tourism.
Get in
Airplane
Major international airlines offer direct flights to passengers travelling to the UK from EU and CIS countries.
Air France, Austrian Airlines, Ryanair, KLM and Vueling Airlines offer services to European tourists.
Such airlines as Aeroflot (Russia), British Airways and EasyJet (both based in the United Kingdom) operate regular flights between Moscow and London. Ukraine International Airlines, Belavia, Air Moldova, Uzbekistan Airways and Air Astana provide service to travelers from other CIS countries.
Railway transport
The Channel Tunnel operated by Eurostar provides rail connections between Great Britain and mainland Europe. High speed trains run from London to Paris, Lille and Brussels. There are also multiple connections from Dutch cities via Brussels to London.
Water transport
There are a large number of ferry routes into the UK from mainland Europe. Car ferries also connect many parts of the UK with other European countries.
Overland transport
Through the Channel Tunnel again, shuttle trains carry cars from Calais (France) to Folkestone (England).
Cuisine
British cuisine includes the culinary heritage of England, Ireland and Scotland. The local cuisine is characterized by using such products as meat, fish, potatoes and different groats.
To gourmets we recommend Beef Wellington (fillet steak with pate, wrapped in puff pastry), Black pudding (blood sausage), Turducken (stuffed chicken or duck), Roast beef with horseradish sauce and Devilled kidneys (lamb's kidneys in a spiced sauce).
In Great Britain, much attention is given to breakfast. The Full breakfast includes eggs, bacon, sausages and coffee or tea as may be chosen. Bubble and squeak (shallow-fried vegetables with roasted meat) is served for breakfast as well.
Whatever fish dish you can taste during your British holidays, the most popular is Fish and chips consisting of battered Atlantic cod and chip chops. Such fine dished as Kipper (smoked herring) and Stargazy pie (baked pilchards with eggs and potatoes) are also popular among the locals.
To exotic food lovers we suggest trying Jellied eels (chopped eels in jelly).
During their tour of the country, tourists will have a chance to taste national pies: Stottie cake, similar to a round loaf, Meat pie with a filling of cured meat, and Pork pie made with pork.
The cuisine of Great Britain offers to gourmets a wide variety of desserts; the most interesting between these are Ice cream cone, Gypsy tart with evaporated milk and brown sugar, and Bakewell tart (shortcake with jam, topped with almonds). Traditionally, every meal includes tea or coffee.
Alcohol enthusiasts should taste local beers, ales and apple cider. At country resorts, vacationers can taste regional wines. Those preferring strong beverages will relish Scotch and Irish whisky.
Money
Despite being a member of the European Union, the United Kingdom has not adopted the euro. The UK's official currency is the pound sterling (GBP, symbol: £), commonly known simply as the pound. It is divided into 100 pence. Banknotes come in denominations of £5, £10, £20 and £50. Coins appear in 1p, 2p, 5p, 10p, 20p, 50p, £1 and £2.
There are numerous exchange offices in London, often located at banks, travel agencies or post offices, as well as at London's airports and major train stations.
There are plenty of ATMs (known in the UK as Cashpoints) dotted around London and large British cities. Internationally-branded cards with the Visa, Plus, MasterCard, Cirrus or Maestro symbols are accepted.
Tourists can also pay with credit cards, especially with Visa and MasterCard, which are widely accepted by most shops and restaurants.
Traveler's cheques can be exchanged at most banks.
If you live outside the EU and are going back home, or are an EU resident leaving the EU for 12 months or more, you can get VAT refunds on goods bought in the UK. To receive the refund, present your stamped and completed Tax Free Forms.
Details of interest
Places of interest in Great Britain
As Great Britain is home to 25 cultural monuments and natural sites inscribed on the UNESCO list, tourists will have much to visit during their trip.
The most remarkable sites to be visited first are:
Westminster Palace, home to the British Parliament, Westminster Abbey where English and British monarchs have been crowned, and Saint Margaret's Church;
Studley Royal Park including the Ruins of Fountains Abbey, one of the largest Cistercian monasteries in England;
Stonehenge and Avebury, two of the largest and most famous megalithic monuments in the world, and associated sites;
Castles and Town Walls of King Edward in Gwynedd, a series of castles constructed during the reign of Edward I of England;
City of Bath with its Roman remains;
Canterbury Cathedral, Saint Augustine's Abbey and Saint Martin's Church, the oldest church in England;
Maritime Greenwich which is notable for its maritime history and for giving its name to the Greenwich Meridian and Greenwich Mean Time;
Pontcysyllte Aqueduct, a navigable aqueduct that carries the Llangollen Canal over the Dee valley;
Heart of Neolithic Orkney, a collection of Neolithic monuments.
Natural sites well worth visiting include Dorset and East Devon Coast; Giant's Causeway and Causeway Coast; Gough and Inaccessible Islands; and Henderson Island.
Visitors to Edinburgh will experience history of Scotland's capital, with its Old and New Towns.
Cambridge, located just north of London, is home to one of the world's top universities, the University of Cambridge.
London, of course, is a breath-taking city laden with history. Filled with museums and art galleries, beautiful parks and fantastic shopping, it is a city that has anything and everything. Big Ben, probably the most famous clock in the world, is a not-to-be-missed icon of British capital.
British souvenirs
Tourists can bring back home beautiful souvenirs and gifts featuring famous British landmarks and icons:
English tea sets;
Smoking pipes;
Big Ben replicas (money boxes, metal magnets, bottle openers, etc);
London double-decker bus models;
Local whisky and Cheddar cheese;
Souvenir gifts inspired by objects and works of art in the Royal Collection.