Yemen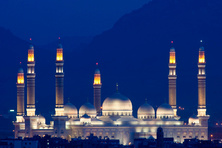 Yemen or the Republic of Yemen is a state in Middle East situated on the south-west of the Arabian Peninsula. It borders Oman and Saudi Arabia. The west of the country is washed by the Red Sea and the south is washed by the Gulf of Aden. The capital city is Sanaa.
The climate in Yemen varies in different regions. On the coast, the climate is monsoon tropical, on the north and north-east, it is desert and in the mountains, the climate is typically dry continental. The best time for travelling to Yemen is winter (from November to March) when the heat is not that exhausting.
The official language is Arabic, The dominant religion is Islam both Sunni and Shiite.
Yemen is interesting for the tourists with its ancient monuments. This country is believed to be one of the first cradles of civilisation and it was an important region for the entire Western world for many centuries. Due to favourable climate many historical monuments of Early and Late Middle Ages and pre-Islamic period are well-preserved. The main excursion centres in Yemen which attract thousand of tourists are Al Ashmur, Al Hoteyb, Amran, Barakvesh, Kawkaban, Kohlan, Manakhan, Al Mahwit, Taiz, Hababa, Hajjah, and Sharaf. Many of these places have hiking routes.
The touristic infrastructure is poorly developed in Yemen so if you get used to five-star service you will probably be disappointed. But those who do not care about it will appreciate endless sandy beaches of Yemen without the crowds of tourists. On the south-west of the country, there is an area dangerous for navigation as there are hundreds of sunken ships there. There is hardly any other place in the world that would be so attractive for the divers.
Get in
By Plane
There are no direct flights to Yemen from EU and CIS countries. Turkish Airlines offers a transit flight with a transfer in Istanbul, Qatar Airways stops in Doha and Emirates in Dubai.
By Land
You can get to Yemen by car or by bus from two neighbouring countries. However, there are no regular buses between Yemen and Oman and the Europeans can hardly get to Saudi Arabia as this country is closed for the non-Muslims. Anyway, if you manage to get a visa to Saudi Arabia a several hours trip in a public bus is not the most pleasant thing.
Visa
The tourists from CIS and EU countries must obtain a visa to travel to Yemen. You should get a visa beforehand by applying to the consular offices of Yemen.
A visa is issued within 1-3 working days and it allows staying in the country for 30 days. Be aware that if in your passport there are any Israeli marks you will be rejected entering the country even if you have a visa.
Customs
The legislation of Yemen allows importing and exporting any amount of national and foreign currency without declaring it. The exception is Israeli currency. It is prohibited to import it. If a tourists imports more than 10.000 US dollars the Customs officers may require a bank statement explaining the origins of the money.
The tourists can import the following goods duty-free:
some alcohol (applies to non-Muslims only) and tobacco;
1 bottle of perfume or eau de toilette;
350 grammes of gold jewellery (applies to women only);
gifts and souvenirs (the total cost should not exceed 100.000 YER).
It's prohibited to import:
gold bars and precious metals jewellery;
photo and video materials with erotic content;
medications (without a doctor's prescription);
any items of Israeli origin.
The tourists are not allowed to export from Yemen:
antiquities and objects of art;
gold and other precious metals.
Cuisine
The national cuisine of Yemen is very similar to cooking traditions of other Arabic countries, but it has its own twist. The staple food in Yemen is meat, rice, seafood, and a lot of spices.
The Yemenis prefer mutton and use it in many traditional dishes. The tourists should try Kabsa (mutton with rice), Haradha (minced meat with spices), and Hanid (a lamb stew).
Chicken is very popular among the Yemenis. The main dish is a chicken stew with spices (Saltah).
A traditional soup in Yemen is a local version of Shorpa (a lamb soup or a broth) and Maraq (one more version of a lamb soup).
We recommend a local seafood dish Aseed (air-dried fish with cheese and garlic and onion sauce).
As other Asian people, the Yemenis prefer rice as a side dish. There are not many vegetables in the diet of the Yemenis, but they eat a lot of bread from simple flatbread to complicated bread dishes such as Fatoot (roasted bread with eggs).
We cannot imagine Yemen without its traditional Oriental sweets: Sabayah (a sweet cake with spices and honey), Zalabiya (a local version of donuts), and fruit creams (especially, banana cream).
A drink number one in Yemen is tea and they often add milk into it. The locals do not drink their famous Mocha coffee often because of its price.
As Yemen is an Islamic state you will not find here any national alcoholic drinks.
Money
The official currency of the Republic is the Yemeni Rial (YER). There are 50 to 1.000 rial bank noted and 1 to 20 rial coins.
The tourists can exchange the currency at banks, in private exchange offices, in large stores, and hotels. Private exchange offices offer the best exchange rate. It will be a problem to exchange foreign currency outside large cities.
Credit cards are accepted at banks, large hotels and stores in the capital city.
It is better to cash traveller's checks right on arrival at one of the banks in the capital city as they are accepted only in large hotels in Sanaa and nowhere else.
Yemen has recently been acknowledged as a very dangerous country for the tourists. De facto, there is a civil war and the government cannot control the major part of the country. Before leaving Sanaa thoroughly study the safety of your route.
Details of interest
Sightseeing in Yemen
In Yemen, there are four sites inscribed on the UNESCO World Heritage List.
An old city of Shibam is a unique example of ancient high-rise buildings. This city is a hallmark of Yemen.
The Old City of Sanaa preserved many ancient buildings and architectural monuments built of earth.
A historical city Zabid is an ancient city which preserved many Medieval architectural sites.
The Socotra Archipelago is a group of islands in the Indian Ocean. It has been inscribed on the UNESCO World Heritage List because of its endemic wild nature. 37% of the local plants, 90% of reptiles, and 95% of mussels can be found only here.
The tourists can also visit UNESCO candidate sites. The following 5 sites are the most interesting:
Archaeological Sites of Marib are the ruins of towns and old settlements around a modern city.
Thula is an ancient city which preserved many Medieval buildings.
Jabal Haraz is a picturesque mountain region with terraced hills.
Jabal Bura is a granite mountain. There you can see some ancient settlements.
In Yemen, there are many other sights of a great touristic interest:
The Tawilah Tanks Crater is water reservoirs carved in a rock one and a half thousand years ago. This is one of the main sights in Aden.
Boukur is rock which offers an amazing view over terraced hills.
Zakatin Castle is a unique castle on the rocks not far from Sanaa.
Al Hajar is a city with Medieval architecture.
Souvenirs in Yemen
In Yemen, the tourists usually buy:
ceramic goods;
woven baskets;
jewellery;
Yemen khanjar;
spices and coffee.