Zambia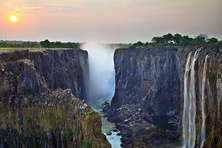 Zambia or the Republic of Zambia is a landlocked country in Southern Africa. The country shares borders with Angola, the Democratic Republic of the Congo, Malawi, Namibia, Tanzania, Zimbabwe, Botswana and Mozambique. The Republic's capital city is Lusaka. Zambia is traversed by the Zambezi River and the Congo River.
A tropical monsoon climate prevails in the country. Weather conditions vary depending on seasons. From late November until mid-April visitors will meet a warm and rainy weather in Zambia. From May to July there is a cool and dry all over the country. The highest temperatures (27 °C to30 °C) are seen in August to October. We recommend visiting the country from May to early November.
The official language of Zambia is English. Christianity is followed by most of the population.
Urban sightseeing enthusiasts will enjoy staying in Lusaka, the country's capital. There travellers will find many museums, a theatre, a city library, a zoo and a botanical garden. The Zinta Community Museum is worth special attention.
Vacationers can go shopping or on an amazing safari in the neighbourhoods of Lusaka. The city of Livingstone is popular with tourists for its countryside tours. Travellers can go hiking or horse riding through the Mosi-oa-Tunya National Park, where the famous Victoria Falls is located. The Zambezi River is a top fishing spot.
Get in
By plane
There are no direct flights from a CIS country to Zambia. Tourists will have to make a connection in a European airport. Travellers and their travel companions will have optimal conditions when flying with British Airways with a connection in London, and KLM Royal Dutch Airlines with a connection in Amsterdam.
Overland
On Tuesdays and Thursdays, trains run between Zambia and Tanzania. Normally the trip takes 38 hours, but failures to meet the schedule are regular. There are also international bus services from and to Malawi, Zimbabwe and Tanzania.
By boat
There are regular ferry routes across Tanzania's Lake Tanganyika, which borders on Zambia; another option is to cross the Zambezi River on a ferry or a private canoe.
Visa
Nationals of some European and African countries (Cyprus, Falkland Islands, Gibraltar, Ireland; Kenya, Namibia, Tanzania, Zimbabwe, and some other states) are exempted from having to apply for a visa. All others must obtain visas either on arrival at the port of entry or at a Zambian Embassy abroad.
From after 2015, all foreign nationals who require a visa can apply online. Processing time for e-visas will take between 3 and 5 working days.
All visitors to Zambia must declare the main purpose of their visit and pay visa fees as prescribed.
Customs
Zambia's customs regulations allow importing any amounts of foreign currencies into the Republic. You will have to declare the amount of money you are bringing in; you may bring out the currency that you declared when entering the country. Limited amounts of national currency are allowed to be imported or exported.
Allowed imports are:
alcohol and tobacco products for personal consumption;
household goods for personal use.
Prohibited from exporting are gemstones and ornamental stones which are Zambia's strategic goods (amethyst, tourmaline, emerald, malachite and aquamarine).
Provided that permitted by state authorities and a purchase receipt is shown, the following items may be exported:
ivory figurines and goods (one per any one passenger);
souvenir coins and skins of wild animals that inhabit Zambia.
Cuisine
Zambia is a real paradise for culinary tourists. Because of a remote location from major trade routes, the country has been able to maintain its authentic cooking traditions that have been lost in other African countries. Travellers should be aware of a very poor personal hygiene in the country; so that disinfectants are a must.
Nshima (a corn pudding) is considered to be the main dish of the Zambian cuisine. It is eaten with fingers. The dish is served with various vegetable and spicy sauces or meat gravy. The ingredients for sauces can often be exotic: mice, insects or beetle larvae.
The Zambians eat lots of cereals, nuts, vegetables, beans and hot chilli peppers. Vacationers should try Chimpapila (a bean paste) which is made from beans, peanut, tomatoes and onions. It is served in a pita.
Amongst meat dishes, common are beef and poultry.
Seafood lovers and their travel companions should taste a grilled Nile perch. The dish is a hallmark of Zambia's seafood cuisine. The fish is served in mayo-lemon sauce and garnished with rice or potatoes.
Beers and wines are imported to Zambia from South Africa. Vacationers may wish to get crazy and try the local home-brewed Chibuka or a rougher version, Cachaca. The spirit is a white home brew made from maize, with a strong taste and smell. In south Zambia, honey wine is popular; in the east, tourists will be offered a wine made from tea leaves.
To pick yourself up, try Maheu, a local refreshing beverage made from maize meal and resembling both yoghurt and beer in taste.
Money
The Zambian Kwacha (ZMW) is the official currency of Zambia. The most frequently used are K2, K5, K10, K20, K50, and K100 notes. Coins come in denominations of K1 and 50, 10 and 5 Ngwee.
Changing your money is easy at the border entry and in Lusaka and Livingstone. Most major banks and various local bureaux de change will exchange US dollars and British pounds to Kwacha. When it comes to changing Euros, you will be most probably given a very poor rate.
Most hotels, restaurants and bigger shops accept credit cards. Visa is more readily accepted; MasterCard is far less popular. However, using plastic cards is generally a problem up country.
Details of interest
Sightseeing in Zambia
Zambia is home to one UNESCO World Heritage site: the Mosi-oa-Tunya National Park, which includes the Victoria Falls known as one of the most spectacular waterfalls in the world. The Falls is situated on the Zambezi River forming the border between Zambia and Zimbabwe.
Over recent years, many extreme activities have appeared there, among which bungee jumping from the Victoria Falls Bridge is very popular with adventurers. You may also wish to have a helicopter flight over the Falls offering spectacular views of the site.
Visitors to Lusaka can make a tour of:
The Kalimba Reptile Park, which is home to a variety of reptiles, including Nile crocodiles, indigenous snakes, tortoises and other species. The park is about an hour and half drive from the capital and only accessible with a 4x4.
The Munda Wanga Environmental Park, originally created as a Botanical Garden, today is a popular destination consisting of a Wildlife Sanctuary, Botanical Gardens and a Recreational Village. The Park houses a large collection of different species of wildlife, including 45species of animals and over 1000 species of exotic plants.
As with most African cities, Lusaka's markets are its top tourist spots. Among others, Kamwala Market is a great place to go shopping.
The Anglican Cathedral of the Holy Cross, the mother church of the Anglican Diocese of Lusaka.
In Livingstone, tourists can visit:
The Maramba Cultural Museum established to preserve Zambian arts and crafts. There you can see local blacksmiths, wood carvers, potters and other craftsmen plying their traditional trade.
The Livingstone Museum, which has a natural history section as well as an interesting collection of David Livingstone's belongings.
The Railway Museum holding some of the finest examples of vintage railway heritage that you can hardly find anywhere else.
Souvenirs in Zambia
Tourists can bring back home:
wood carved animals and birds;
copper bijouterie (rings, bracelets or a Zambezi Goddess necklace);
teacups, magnets or T-shirts with a print of the Victoria Falls;
leather products and furs;
African wines.