Croatia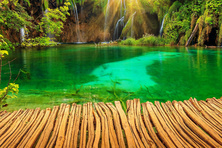 Croatia is a country in the central Europe located between the East Alpine Ridge, Danube and south-western Coast of the Adriatic Sea. Croatia is a former federal constituent of Yugoslavia and it lies partly in the Balkan Peninsula. The capital city is Zagreb. 
While the eastern part of Croatia is characterized by the Mediterranean climate, the Adriatic coast has a moderately warm continental climate. Winter is more severe and long-lasting in mountain areas of Croatia. The best time to visit Croatia is from May to October.
90% of the country's population are Croats but there are also the Serbians, Montenegrins, Hungarians and Macedonians. The official language of the country is Croatian. The largest Christian community in Croatia are Catholics. 
Croatia has thousands of years of great history and each historical epoch left many historical and cultural monuments. Medieval castles give way to amazing nature parks and complexes. Beach holidays are also rather popular in Croatia. Croatia can be roughly divided into three large resort zones:
Resort city Poulat on the Istrian peninsula.
The city of Split in the Central Dalmatia.
The city of Dubrovnik in the Southern Dalmatia. 
Divers choose to travel around the Istrian peninsula. Some of the Croatian beaches have a "UNESCO Blue Flag" which is the sign of high environmental standards in these places. Croatia is a must-see for those who love ecotourism. Just 50 north-east of Zagreb, there are healing mineral waters. Pure air and green forests make these places very popular healing retreats. Healing retreat is particularly popular among people having respiratory conditions.   
Get in
By Plane
The plane is the most convenient and the fastest way to get to Croatia. Russian airlines «Aeroflot» flies to Zagreb airport four times a week. You can also get to Croatia through Budapest or Ljubljana air gates but in this case you'll need a transit visa.   
By Train
The trip from Moscow to Zagreb through Hungary takes 46 hours. The trailing car to the Croatian capital runs three times a week. You can also take an everyday train to the capital of Croatia with a transit in Budapest.
Some trains run from the border Hungarian, Serbian, Slovenian and Bosnian towns. 
By Ferry
Italy and Croatia are connected with each other by a ferry line. The number of voyages depends on the season. 
By Bus
You can travel to Croatia by bus or by car through Ukraine or Hungary and you will need a transit Hungarian visa.  
Cuisine
There is central and coastal Croatian cuisine and they differ by the ingredients and cooking techniques. Central Croatian regions tend to use early Slavic recipes which were greatly influenced by the cuisines of Hungary and Turkey. The cuisine of the coastal part of the country combined Mediterranean cooking traditions of such countries as Italy and France as well as Greece and Rome.  
Simple but substantial dishes are typical for the central part of the country. Tourists can enjoy the turkey and pancakes, stuffed vegetables and pickles, Slavonic fish pie and famous Croatian paprikas. Tourists can also order traditional corn and bean soup Maneštra od bobići. Croatians add quite a lot of olive oil to all their dishes.  
Gastronomy tour around the capital of Croatia will be remembered by traditional boiled puff pastry pie made with farmer's or cottage cheese. A dessert can't be imagined without a pie with a nut mousse. 
In the coastal parts of Istria and Dalmatia, they often cook fish and seafood but the locals never miss a chance to eat meat as well. A specialty of the local restaurants is Pršut, it is a pork roasted with Pag cheese.  Croatian wine soup will be served as a first course.   
Crabs and grilled catfish are perfect for supper. Cheese is a separate element of the table. Cheese platters and dishes with cheese is an essential part in the menu of the local restaurants. Local cheeses are good souvenirs.
For a dessert, the Croats prefer fruits and nuts (almond, cashew).
In Croatia, there are strong historical traditions of alcohol brewing. For example, traditional for the Balkan people fruit Rakija is called Travarica in Croatia and it is quite simply an infusion of variety of herbs. The Croats also make cognac which is called here Vignac. Being in Croatia, do not miss the opportunity to enjoy a home-made wine Toceno and kind of a plum brandy Slivovica. Zadar cherry brandy Maraska and herbal liqueur-like infusion Pelinkovac are very delicious and the Croats are proud of these drinks. The wines Pinot and Merlot are also produced here. 
Details of interest
It is always a good idea to learn more about customs and traditions of the country you are going to visit. The Croats are very patriotic and they always try to underline that they differ from the other Balkan peoples.
Staying in Croatia, a tourist can unwillingly acquire the tradition of night walking along the strand or in the downtown looking at other people and couples. Too much attention to strange people is considered absolutely normal in Croatia.
Croatia sightseeing
Croatian history is rich in historical events and left a lot of architectural monuments. Literally, every region of the country has something to be proud of. We recommend seeing the touristic objects included in the UNESCO World Heritage List. 
The most ancient Dalmatian city Dubrovnik which is located on the coast of the Adriatic Sea is a place every tourist must visit. You can also visit the historic centers of such cities as Trogir and Split and the Diocletian's Palace. Not far from the city of Slun, there is a park listed in the UNESCO list Plitvice lakes National Park. It contains 16 lakes connected with each other by 92 waterfalls. In a Croatian city Porec, an architectural complex Euphrasian Basilica was erected. This is one of the most valuable objects of the Byzantine art on the Balkans. Cathedral of St. James in Shibenik has been acknowledged a real masterpiece of Dalmatian architecture. One more location protected by UNESCO is Stari Grad plain on the Hvar island.
The monuments of ancient Rome architecture remained in a resort city Pula. The mots famous of them are amphitheater Arena, Herculean Gate, Triumphal Arch and Colosseum.
The capital of Croatia, ancient Zagreb, is divided into Upper Town (Gornji Grad) and Lower (Donji Grad) Town. In Zagreb, one can find many architectural monuments such as Mimar's Museum, Archbishop Palace and Stone Gates with the paintings showing Virgin Mary. The central square of the city is the starting point of shopping because there begins the main shopping street Ilitsa. Go to Zagreb shopping malls Nama and Ilica to buy souvenirs.   
Croatian Souvenirs
A very authentic souvenir for men from Croatia is a tie Croata. This accessory is incredibly popular among the Croats and it is also a part of a traditional costume.
An amulet of Croatian sailors morčić will remind you of your time spent in Croatia.
Zadar liqueur Maraschino is a delicious souvenir. The recipe of this drink was first mentioned in the 15th century in Dominican monastery.
Bring from Croatia the Rab cake (Rapska torta), this is the dish that was served to the rich Rab patricians 300 years ago, a miniature stone round house Istarian  Kažun, Vučedol dove (a ceramic vessel) and a souvenir in the form of a Baška tablet (the ancient monument of the Croatian Language).
Pag lace is the most beautiful gift from Croatia.