Denmark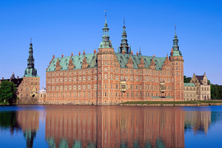 The Kingdom of Denmark is a state in the north of Europe. It borders on Germany and is separated from Sweden by an arm of the sea. The capital is Copenhagen.
On the mainland, the climate is temperate maritime; in Greenland, it is subarctic and arctic. Warm summer months are optimal for spending holidays in Denmark.
The official language is Danish. German is widely spoken in southern regions, and Greenlandic is spoken in Greenland. Most believers are Lutherans.
In terms of tourism, Denmark appears as quite a diverse country, that's why holidays in Denmark may be spent in different ways.
There are a good number of historical monuments in Denmark dating from the Vikings. In this category, the Trelleborg Viking Fortress, the castle of Fyrkat and the museum complex of Lindholm Hoje are considered popular landmarks.
For many tourists, a travel to Denmark is an opportunity to enjoy the traditional Scandinavian architecture that is still preserved in Copenhagen, Svendborg, Ribe, Haderslev and in other old towns.
The Kingdom is rich in picturesque landscapes that attract visitors from neighboring countries, too. This refers mainly to the islands of South Zealand, Bornholm, Funen and most of North Jutland. Greenland sets itself apart with its unique landscapes.
Although Denmark is considered a Nordic country, there are some travelers who prefer Danish beaches to Spanish or Greek ones. Major centers of beach tourism are the islands of Moen, Falster and Bornholm as well as the towns of Lokken and Lonstrup in North-West Jutland.
There are several theme parks in Denmark, which are popular among visitors and their travel companions: Legoland Billund, Tivoli Gardens, Bon Bon Land and Middelaldercentret (Middle Ages Center).
Get in
Airplane
Denmark is connected by regular routes with most EU countries. SAS Scandinavian Airlines is the dominant carrier for international connections. Low-cost airlines include EasyJet, Transavia and Ryanair. Russian Aeroflot offers direct flights from Moscow to Copenhagen.
Overland transport
There are direct daily trains from Hamburg, Germany to Copenhagen. Tourists coming from farther away in Europe can take trains from Amsterdam, Prague Stockholm and several other European countries.
Long distance buses offer a good economical alternative to trains. The same goes for travelling by car as Denmark is directly connected to the German Autobahn.
Water transport
Tourists can reach the country by regular ferries that depart for Denmark from Norway, Germany, Iceland, Sweden and the UK.
Cuisine
Denmark's national cuisine is a part of the traditional Scandinavian cooking. Although it isn't very popular abroad, Danish cuisine is of some interest to culinary tourists. The Danes' menu includes a lot of meat, fish and berries.
Vacationers should definitely try Flæskesteg (roast pork), Flæskesteg med rodkal (roast pork with red cabbage) and Lammesteg (fried lamb).
Also not without interest is poultry meat which is more favorable to digestion. We recommend Gammeldags kylling (pan-cooked chicken with boiled potatoes), Hons i Asparges (boiled hens meat with asparagus and potatoes) and Stegt And (roast duck with apples).
Soup menu is represented by Gule Erter (a thick soup of split peas with pork), Honsekodssuppe (clear chicken soup) and Korvelsuppe (onion soup with eggs).
During your Danish holidays you shouldn't ignore such dishes as Kogt torsk (cod with mustard sauce), Stegte Sild (fried herring) and Fiskefrikadelle (Danish fish cakes), Stjerneskud (a salad with fried plaice, shrimp and mayonnaise) and Roget al og roræg (smoked eel with scrambled eggs).
Fruits and vegetables are usually used as side dishes, and in very rare cases they are served separately. The most popular side dish is boiled potatoes, stewed cabbage and grilled onions.
Denmark is famous for its desserts. During your trip, have a taste of Rodgrod med flode (thickened red berry compote), Karamelrand (a cream based custard), Frugtsalat (fruit salad with vanilla cream), Pandekager (pancakes with berry jam) and Koldskal (a cold buttermilk dessert).
Denmark produces excellent juices and compotes from local herbs, which are commonly named Saftevand. Hyldeblomstsaft, a sweetened elderflower drink, is of special interest.
Beer is recognized as the country's main alcoholic beverage. The world-famous beer brands of Carlsberg and Tuborg originally hail from Denmark. Tourists and their travel companions should pay attention to liqueurs Cherry Heering and Kummel, and to Aquavit vodka.
Money
The national currency of Denmark is the Danish krone (DKK) which is subdivided into 100 øre. Banknotes come in nominations of 50 to 1000 kroner; coins come in 50 øre and in 1, 2, 5, 10 and 20 kroner.
Tourists can change money in one of the many banks all over Denmark. Also at popular beach resorts and some shops in larger cities it will be possible to pay in Euro. But note that this will be expensive due to very bad exchange rate. However, in most cases you will need Danish money if you're going to shop in Denmark.
ATMs are widely available even in small towns. Nearly all machines will accept MasterCard, Maestro, Visa and American Express. Most restaurants, shops and attractions also accept Visa, MasterCard and American Express.
In general, international credit cards are less used in Denmark compared with many other countries; the most commonly used credit card in Denmark is Visa.
If you are living in or if you have a permanent residence in a non-EU country, you can shop tax free in Denmark. VAT refunds are paid on all goods that are exported in a traveler's personal luggage; the minimum purchase amount must be 300 DDK.
Details of interest
Places of interest in Denmark
Denmark is home to 8 UNESCO World Heritage sites that tourists can visit during their tour of this country:
Jelling Mounds, Runic Stones and Church, striking examples of pagan Nordic culture and at the same time, of the Christianization of the Danish people;
Kronborg Castle, Denmark's most famous castle, home of Shakespeare's Hamlet;
Roskilde Cathedral, a unique medieval cathedral providing a clear overview of the development of European religious architecture. This is the resting place of the Danish Royal family;
Ilulissat Icefjord, a fjord in western Greenland which is the most productive glacier in the Northern Hemisphere. A must for visitors;
Wadden Sea, Denmark's newest national park and the world's largest unbroken system of intertidal sand and mud flats;
Stevns Klint, a white chalk coastal cliff located southeast of the island of Zealand;
Christiansfeld, a Moravian church settlement. An example of a planned settlement of the Moravian Church, which founded the town in 1773;
Par force hunting landscape in North Zealand, former royal hunting grounds located just north of Copenhagen.
When on holidays in Denmark, tourists should visit at least one of 7 properties from the Tentative list. The following are of special interest:
Amalienborg, the winter home of the Danish royal family in Copenhagen;
Trelleborg fortresses, the best preserved of the Viking ring fortresses.
There are also other remarkable landmarks that are well worth your view during the tour of Denmark:
Glostrup Kirke;
Fuglsang Manor in Lolland;
Archeological sites near the town of Millinge;
Öresund Bridge, the longest combined road and rail bridge in Europe connecting Sweden and Denmark;
Numerous castles of Nyborg, Aabenraa, Odense, Sonderborg, Fredericia and Kolding.
Danish souvenirs
From a trip to Denmark, visitors can bring back home uniquely Danish souvenirs:
Mermaid figures and magnets;
Viking ship models;
LEGO constructor;
Porcelain wares and related products;
Alcoholic beverages and bitters.