Lolland
Resort type:

Country resort

Landscape:

Broadleaf Forest, Seacoast, Island, Plain, Hills

What to do:

Golf, Hunting, Historical & Architectural Monuments, Hiking, Fishing & Spearfishing, Safari, Nightlife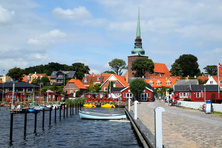 Lolland is a Danish island in the Baltic sea. It is divided into 2 communes: Lolland and Gulbransson. The capital city is Nakskov.
The resort is popular with the tourists who like ancient history and outdoor excursions. In Maribo Open-Air Museum, the tourists will learn about how people lived in the Medieval times. On the territory of the Museum, there are 13 houses having different functions. The tourists will see blacksmith shop, a washing house and a sawmill. The houses store the things people used every day. The things date back to the 17th - 20th centuries. A hallmark of the collection is a steam engine. Maribo Cathedral was built in the 15th century from red brick in a Gothic style.
In the southern part of the island, there is Olholm Castle. It was built in 1200 and is the oldest castle in Denmark. Not far from the castle, you will find Automobile Museum, the exposition contains 200 retro cars.
The tourists can go hunting, fishing or go on a picnic in the suburbs of the castle.
The major sight of Nakskov is a Soviet 76-meters submarine U-359. The excursions are arranged for everyone who is interested to see what is inside it. In the city, there is a Sugar Factory and Denmark's Sugar Museum telling the tourists about the development of this industry in the country. You can also play golf in Vestollands Golfklub Halsted.
Those who love wild nature should definitely visit Knuthenborg Safari Park in Maribo. You will have a great time in medieval Center in the city of Nykobing Falster. The tourists can play a role of a Medieval knight and try their hand at archery. On the medieval market, you will find unique souvenirs.
Traditional cuisine is offered in a restaurant Den Fuldkomne Fisker. Panya Thai restaurant in Maribo offers Thai cuisine. At night, Munk Stuen club opens its doors.