Georgia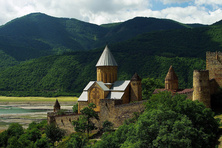 Georgia is a small country located at the crossroads of Europe and Asia in Transcaucasia. It borders Armenia, Turkey, Azerbaijan and Russia. The west part of the country is washed by the Black Sea. The capital of Georgia is Tbilisi.
The climate on the west is subtropical and on the east is Mediterranean. The best time for visiting Georgia is May and September when the weather is warm but not too hot.
The official language is Georgian but people use about two dozens of different dialects. Many people can speak Russian. The major religion is Christianity. The Sunni Muslims are in the minority and make up about 10% of the population. 
The foreigners come to Georgia to spend time near the warm see, to see the ancient monuments, enjoy picturesque mountain trails, eat good food and improve health on wellness resorts. 
You will find beaches in the seaside cities such as Anaklia, Batumi, Grigoleti and Kvariati, Sarpi,  Ureki and Shekvetili. The seaside is filled with sunken ships and crashed planes which attract to Georgia many divers. 
In winter, in Georgia several ski resorts work for the tourists. The most famous ski resorts are Bakuriani and Gudauri.
Some people come to Georgia to improve their health on wellness resorts. The cities of Borjomi and Tsqaltubo and such resorts as Sairme and Shovi are known for their mineral sources.
A picturesque mountain landscape motivates for walking and horse riding. You can go trekking on thewhole territory of the country so it s difficult to recommend a particular place.
Many mountain rivers attract rafters from all over the world. Any big river is good for rafting but the tourists particularly like the Aragvi river, Kura and Rioni.
Get in
By Plane
The majority of CIS countries and many Western Europe capitals are linked with Georgia by regular flights.
By Land
You can travel to Georgia by car or by bus entering the country from the territory of the neighboring states. There are trains running between Georgia and Azerbaijan and Armenia. Tourists from Russia must cross the border only in Kazbegi near the city of Stepantsminda. Tourists traveling to Georgia through Abkhazia and Shida Kartly will not be allowed to come to the country or can even be arrested for illegal border crossing.
By Ferry
Regular ferries connect Georgia and Russia, Ukraine and Bulgaria. 
Visa
Tourists from CIS and EU countries can spend their time on Georgian resorts and stay in the country without a visa for 360 days. Be aware, that Georgian border guard officers will not allow to the country people who have entry permit stamps in their passports showing that they visited such self-proclaimed states as Abkhazia and  South Ossetia, entering to these countries from the territory of Russia but not Georgia.  
Customs
There are no restrictions concerning foreign currency import but you cannot export more money than you brought into the country. For this reason, we recommend declaring large sums of money. You can import  25.000 lari (GEL). If you have a bigger sum, you must submit a document on the origin of the money. You can export not more than 3.000 GEL and only 4 bank notes of each denomination.
You can import into Georgia duty-free the following things:
a small amount of alcohol and tobacco;
personal jewelry (you must declare them);
personal belongings (the total weight is not more than 100 kg);
other things for personal use (must be declared).
It is prohibited to import into Georgia:
 literature damaging the reputation of the state structure;
some types of video materials.
The tourists cannot export objects of high  historical and artistic value. 
Cuisine
Georgian cuisine has its own unique ethnic identity and it is very attractive for food lovers. The staple foods in Georgia are vegetables, dairy products, meat, spices and sauces.
WE highly recommend trying one of the most famous Georgian dishes Mtsvadi (local shashlik). The tourists are always served Khinkali (local version of pelmeni), Gotchi (roast suckling pig), Odjakhuri (fried meat with potatoes) and Chakapuli (stewed meat with greens). 
Poultry is the main ingredient in Satsivi (chicken or turkey cooked in the sauce Satsivi), Chakhokhbili (stewed chicken) and Chicken tapaka (pan-fried spiced chicken). 
Georgian soups are world famous: Kharcho (hot spicy soup with beef and rice), Chikhirtma (meat soup without vegetables) and Khash (fatty meat broth).
Fish became a staple food for the people of the seacoast. The tourists should try Trout with nuts, Fish shashlik and boiled trout Tsotskhali.
Vegetables and fruits are often served as individual dishes, a side-dish for meat and fish. The Georgians boil, stew, roast and bake beans, potatoes, cabbage, eggplants and other vegetables flavoring them with spices, herbs and adding nuts. We cannot but mention Georgian pastry such as Khacha Puri, Mtchadi and Kubdari.
A popular appetizer in Georgia is cheese: Suluguni, Kobyisky, Chanakh, Imeruly, Gadazelili, and Guda.
If you like sweets, you should try Gozinaki (caramelized nuts), Churchkhela (nuts in thickened grape juice) and Phelamushi (grape kisel).
In Georgia, they make flavored soda drinks Lagidze water. Common types of mineral water include Borjomi and Nabeghlavi.
Georgia has a reputation of a wine-making country and its wines are known all over the world. There are literary around one hundred types of wines in Georgia. What you should try is Khvanchkara, Saperavi, Mukuzani, Tsinandali, Tvishi and grape homemade vodka Chacha.  
Money
The official currency is lari (GEL) which is equal to 100 tetri. In circulation are the banknotes from 1 to 200 lari and coins from 1 tetri to 10 lari.
In Georgia, you can exchange currency at banks in exchange offices. In many places, they accept US dollars and Euros and in the northern part of the country the Russian ruble is accepted.
You can pay by credit card in large shops, restaurants and hotels. In small towns, credit cards are not commonly accepted.
You can cash traveler's checks at banks but the checks are not commonly used. 
In Georgia, the tax-free system is available. The tourists can partly refund the cost of their purchases in special shops. Usually, about 15% of the total some can be refunded. 
Georgia is a safe country for visiting. However, there is no guaranty of safeness if the tourists want to visit Abkhazia and South Ossetia as Georgia does not control these states. 
Details of interest
Sightseeing in Georgia
In Georgia, there are three sites form the UNESCO World Heritage List:
Historical Monuments of Mtskheta. There are the churches of the ancient Georgian capital and this is an example of Medieval religious architecture of Caucasus.
Bagrati Cathedral and Gelati Monastery in Kutaisi show the flourishing of architectural diversity in Georgia.
Upper Svaneti is a mountain region with a unique combination of mountain landscape and Medieval settlements survived till these days.
The travelers should visit, at least, one of the 16 UNESCO candidate sites. The most interesting are:
Shatili which is a mountain settlement near the border with Russia. This is a unique complex of medieval-to-early modern fortresses and fortified dwellings of stone.
Old Tbilisi is a historical center of the Georgian capital with well-kept Medieval buildings.
Uplistsiche is an ancient rock-hewn town; it contains buildings dating from Early Iron Age. 
If you stay in Georgia, take advantage of other sights which are not under UNESCO protection but also of great touristic interest:
Rabati Castle in the city of Akhaltsikhe;
Ancient Rome Gonio Fortress near Batumi;
Dadiani Palaces Historical and Architectural Museum in Zugdidi;
Castle ruins in Rustavi;
Medieval Signagi city walls;
Batonis-Tsikhe Fortress in Telavi;
Cathedral in Tsalenjikha.
Georgian Souvenirs
In Georgia, tourists usually buy:
wine and home-made vodka Chacha;
drinking horn;
sweets;
delicious Georgian cheeses;
ethnic clothes;
jewelry in traditional Georgian style.