Ireland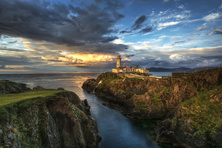 The Republic of Ireland is a state covering the greater part of the namesake island in the North Atlantic. It is bounded by the Irish Sea, the North Channel and Saint George's Channel. It neighbors on Great Britain. The capital is Dublin.
The weather of Ireland is influences by a temperate maritime climate. The sunniest months are June and July which are considered the best period for spending holidays.
The official languages are Irish and English. Christianity is dominant among local religious faiths.
Ireland attracts visitors by its unique environment. Ecotourism is well-developed in the country. Nature enthusiasts should choose the lakes of County Kerry, County Clare and its Cliffs of Moher, County Mayo near to areas of outstanding natural beauty, and County Westmeath where a beech park is located.
Shoppers should go to Dublin, Limerick and Galway.
A journey to Limerick will be of interest to music fans and clubbers. Tourists will find a wide selection of nightspots in Cork and Kilkenny where the namesake beer is brewed. The Leinster province attracts event tourism lovers by numerous festivals.
Those who prefer excursion tourism can visit cultural and historical monuments of the counties of Meath, South Tipperary, Wexford, Waterford, Laois and the province of Connacht. Visitors will get to see the architecture of County Donegal, County Carlow, Dundalk and Kielder.
Active tourists and their travel companions will have a chance to go climbing or hiking across County Wicklow, to swim at the Fingal aquatic center and to play golf on County Cavan's courses.
Pilgrims will enjoy the monasteries of County Offaly and County Sligo.
Get in
Airplane
Ireland is served by 4 international airports, of which Dublin is the largest and most connected one, with flights to many cities in the US, Canada, the UK, mainland Europe and the Middle East.
Direct flights from Moscow, Russia to Dublin, Ireland are operated by S7 Airlines (Siberia Airlines). Tourists from other CIS countries will have to fly with a transfer in London, Frankfurt or Paris.
Water transport
Ferry connections are served by numerous companies offering passenger services from Liverpool (England), Swansea (South Wales) and Holyhead (North Wales). Several carriers provide services from France, Holland and Belgium.
Cuisine
Irish cuisine will be highly appreciated by wellness tourism lovers, as it's based on organic foods grown on local fields and meadows. Traditional Irish "country style" dishes are quite simple and hearty. Potatoes, oats and barley, pork and lamb meat, lake fish, cheese and other dairy products are main ingredients used in Irish cooking. Seafood specialties became common in the northern part of the country.
Culinary tourism enthusiasts should try Irish stew (a stew of lamb, onions and potatoes), Coddle (made of bacon, sausages and potatoes) and Gaelic steak (grilled beef fillet with whiskey). It's common practice to serve Irish soda bread with main courses.
Exotic food lovers will enjoy tasting Dulse (dried red algae). Vacationers will be offered dishes made of oysters, mussels, lobsters and fish, including Seafood pie and Fish & chips, fried fish with potatoes.
During Irish holidays, travelers should definitely taste traditional cheeses Coolea chees, Ardrahan chees, Cashel blue chees, Millen chees and Doolin chees.
The Irish people serve as side dishes Boxty (potato pancakes), Champ puree and Colcannon (mashed potatoes with cabbage).
For dessert we recommend choosing Goody (bread-based pudding with sugar, milk and spices) and Shamrock cookies.
Milk is considered a common Irish drink; Irish coffee with whiskey is popular as well.
Guinness is thought to be the most famous Irish beer, but the flavors of Beamish stout and Black and Tan are equally interesting. Those who choose rather strong drinks should have a taste of Irish Mist and Baileys liqueurs; Poitin, a homemade spirit from potatoes and malt; Jameson, Middleton and Bushmills, genuine Irish whiskeys.
Details of interest
Places of interest in Ireland
Ireland is home to 2 sites of outstanding cultural and natural importance, which are included in the UNESCO World Heritage list:
Archaeological Ensemble of the Bend of the Boyne located in County Meath. This is the largest and one of the most important complexes of Megalithic sites in Europe, dating to the Neolithic period. The site covers 780 ha and contains numerous mounds, chamber tombs, standing stones and other prehistoric enclosures. The most well-known sites within the ensemble are the passage graves of Newgrange, Knowth and Dowth, all famous for their impressive collections of megalithic art;
Skellig Michael, a Christian monastery on the namesake island situated 15 km west of County Kerry. This is one of Europe's best known but least accessible monasteries; it's for this reason that the site is exceptionally well preserved.
There are also several Irish landmarks which may be nominated for inscription on the World Heritage list over the next decade:
The Burren, a karst landscape in County Clare;
Historic City of Dublin which is famous for its historical sites;
The Ceide Fields and North West Mayo Boglands in County Mayo;
Western Stone Forts;
Monastic City of Clonmacnoise and its Cultural Landscape;
Early Medieval Monastic Sites;
Royal Sites of Ireland including the Rock of Cashel, Dun Ailinne Fort, Hill of Uisneach, Rathcroghan complex and the Hill of Tara.
In addition, we also recommend visiting such tourist attractions as Dublinia, one of Dublin's best museums; Kilmainham Gaol, a former prison which is now a museum; Blackrock Castle Observatory, an exciting location where you can enjoy daily planetarium shows and learn about the Universe; Guinness Storehouse at St. James's Gate Brewery in Dublin; the National Museum of Ireland focused on Irish art, culture and natural history; the National Leprechaun Museum claiming to be the first leprechaun museum in the world; Dunbrody Famine Ship Museum, a full scale replica of the barque that transported many Irish emigrants to the US and Canada over 150 years ago…
Irish souvenirs
Tourists can take back home some souvenirs from Ireland:
Celtic-style woolen products;
Irish whiskey and beer;
Mugs, bowls and pitchers;
Handcrafted Irish Atlantic sea salt;
Irish musical instruments.