Galway
Resort type:

City resort

Landscape:

Town, Lakes, Riverside, Bay Coast

What to do:

Cycling, Culinary Tourism, Natural Parks & Reserves, Casinos, Horse Riding, Wellness Tourism, Historical & Architectural Monuments, Gliding & Paragliding, Rafting & Kayaking, Fishing & Spearfishing, Surfing, Windsurfing & Kitesurfing, Festivals & Carnivals, Shopping, SPA, Nightlife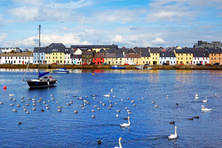 Galway is a city in Ireland and a capital of County Galway in Province of Connacht. The municipality is situated on the shores of the Galway Bay at the estuary of the River Corrib in the west of the country. The total area is near 53 square kilometres. The city is 208 kilometres away from Dublin and 112 kilometres away from Limerick.
The ecological tourists prefer to stay in the suburbs of Galway. There are many reserves, including a famous Connemara National Park. On the territory of the park, there are the Letterbreckaun Mountain and the Lackavrea Mountain. Among other interesting natural sights are Merlin Woods Park and turf swaps in Doo Lough Valley.
The extreme tourists will have a wide choice of activities from rafting, kayaking, biking to paragliding, river windsurfing and fishing on the River Corrib. The active tourists can try their hand at climbing, horseback riding and trekking.
The hotel restaurants serve traditional Irish dishes. Such restaurants as Oran Tandoori, Cava Bodega, and White Gables offer Asian, Chinese and international cuisines.
If you stay in the capital city, then go shopping to the malls Corbett Court, Eyre Square and Galway.
The city holds International Oyster Festival and Galway Races. These local events attract many tourists.
If no journey is complete for you without excursions you can take an excursion tour to the main historical and architectural sights of Galway. This tour takes you to see Oranmore Castle and Saint Nicholas Collegiate Church.
Make your holidays in Galway even more interesting and visit the local museums, galleries and exhibition halls. There is an interesting exposition in James Mitchell Geology Museum and Vanda Art Gallery.
Such wellness centres as Spirit One and Relaxation offer a massage course and a spa treatment.
A nightlife in Galway is very active. There are many clubs and a casino. The best places to go to at night are Kings Head, Roisin Dubh and Caesar's Palace.