Luxembourg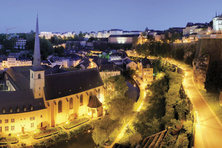 The Grand Duchy of Luxembourg is an independent state situated in Western Europe. It's a landlocked country. It shares borders with France, Belgium and Germany. The Grand Duchy's capital is Luxembourg City.
The climate is temperate with mild winters and warm summers. We recommend travelling from May to October.
The Roman Catholic Church is predominant in Luxembourg. French, German and Luxembourgish (with national status) are recognized as official languages in Luxembourg. The English language has been widely spoken.
Enthusiasts of countryside tourism are recommended visiting Echternach and its ancient villas. Tourists will enjoy Grevenmacher, a wine-producing center situated in the Moselle Valley.
Those who want to combine the pleasant with the useful may wish to visit Mondorf Domaine Thermal, a thermal center which specializes in treating digestive system diseases. Shopaholics should explore Oberstadt and Unterstadt, Luxembourg City's shopping areas where you can find European boutiques. Those looking for handmade souvenirs to buy in the Grand Duchy should go for a walk around the streets neighboring the Place d'Armes square.
Any tourist planning a trip to the Grand Duchy must visit Luxembourg City, the country's major place of interest. In the capital, tourists will see the unique Grand Ducal Palace built in 17th century, and the worldwide famous Notre-Dame Cathedral which cornerstone was laid in the 18th century. Visitors to Luxembourg City will have an opportunity to walk about Boulevard Royal, Ring parks and the Adolphe Bridge.
Travelers and their companions should definitely take out a time to visit the castle of Esch-sur-Alzette built in the 19the century, and the National Museum of History and Art.
Get in
Airplane
The country's only international airport is Luxembourg. Luxair, the flag national carrier airline, flies to many EU countries. In addition, Luxembourg is serviced by Air France (Paris), KLM (Amsterdam), Swiss International Airlines (Zurich), Lufthansa (Frankfurt), SAS (Copenhagen) and British Airways (London). Transfer flights only are available for tourists from CIS countries to reach Luxembourg.
Railway transport
Luxembourg railway station can be reached directly from Paris and Metz (France), Brussels (Belgium) and Trier (Germany). The journey will take 43 min to 3 hours depending on the departure station.
By road
Alternatively, the motorway is another option to enter the country from nearby. The ring-road around Luxembourg City is connected by motorways to Metz, Brussels and Trier.
Cuisine
Luxembourg's cuisine reflects the influences of French, German and Belgian culinary traditions. The national Luxembourgish cuisine is based on meat and fish.
Visitors to the Grand Duchy and their travel companions should try Judd mat gaardebounen (pork with broad beans) and the famous Ardenne ham. Each tourist will enjoy exquisite pork, delicious spiced black puddings and Luxembourgish veal delicacies (brains, liver and hearts). Exotic food lovers will appreciate a jugged rabbit.
Those who prefer seafood shouldn't miss fish restaurants where the finest crayfishes are served. A gourmet tour of Luxembourg will be best remembered for river fish perfectly cooked. Local chefs cook the fish using wood-fire grills or ovens, and that is served with vegetables and herbs in sweet and sour sauce.
Those who have a sweet tooth can treat themselves to beautiful chocolates Knippecher and savory pastries: croissants and open-faced sweet tarts. The Grand Duchy is famous for its traditional tarts filled with jam or chocolate.
While in Luxembourg, you can't do without tasting reputed Auxerrois, Beaufort and Elbling dry wines. At restaurants we recommend to ask a legendary blackcurrant wine produced in the Beaufort Castle.
Details of interest
Customs and traditions of Luxembourg
Luxembourg is popular with event tourism enthusiasts who hold on this small European country for its gorgeous carnivals and unforgettable festivals.
Every year during the Easter Festival the famous Emese is held. Its main event is a gastronomic fair that takes place in the city fish market.
Another festival, Burgzonndeg, is held every year in February and is still attractive. Before Great Lent, a colorful Carnival begins which is celebrated for three days.
Places of interest in Luxembourg
Luxembourg is home to one UNESCO World Heritage site: City of Luxembourg's Old Quarters and Fortifications. Because of its strategic position, Luxembourg was considered some of the greatest fortified sites in Europe.
In addition, tourists will discover numerous monuments of European culture and history: the town and castle of Vianden, one of the largest fortified castles west of the Rhine; Clervaux castle which now houses offices of local government; Bourscheid castle, a medieval castle standing some 150 meters above the River Sure; Beaufort castle consisting of the ruins of the medieval fortress. The Valley of the 7 castles named after the group of seven castles that line its route leading through the valley of the River Eisch.
In Luxembourg City tourists can visit Casino 2000, a gaming casino and entertainment complex that houses the country's only gambling facilities, attracting almost half a million visitors a year.
Amazing hiking destinations are available for those visitors to Luxembourg who go in for countryside tourism. In the Moselle region tourists can discover the majestic Haff Reimech Nature Reserve. Another nature reserve, the Haard-Hesselsbierg-Staebierg Park offers wonderful walks, fantastic views and picturesque landscapes.
Luxembourg's beautiful lakes not only provide drinking water supplies, but are also much in demand as leisure facilities offering a wide range of watersports (swimming, canoeing, diving, windsurfing and sailing): the Upper-Sûre lake, Remerschen lakes and the Lake of Echternach.
Those who travel with kids will find here in Luxembourg numerous theme parks and children's entertainment centers.
Souvenirs from Luxembourg
In Luxembourg tourists will be offered some of the most diverse souvenir shopping in Europe. Popular are magnets, cups and lapel pins with printed national symbols. In addition, local chocolates, fruity wines and decorative candles seem to be an obvious souvenir choice in a trip to Luxembourg.