Luxembourg
Resort type:

City resort

Landscape:

Town, Mountains, Valley, Broadleaf Forest, Plain, Riverside, Coniferous Forest, Hills, Cliffs

What to do:

Cycling, Culinary Tourism, Golf, Natural Parks & Reserves, Wellness Tourism, Historical & Architectural Monuments, Hiking, Thermal & Mineral Springs, Festivals & Carnivals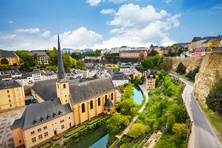 Luxembourg is a capital city of the Grand Duchy of Luxembourg. Together with Belgium and the Netherlands, it belongs to Benelux. It borders Belgium in the north and the west, Germany in the east and France in the south.
On the north, there are the branches of Ardennes and the Burgplatz Mount. The rest of the territory is occupied by the Gutland plain. The main river of Luxembourg is the Mosel River and its tributary Sauer.
The lovers of the excursion tourism will love the tours to the historical and architectural monuments of Luxembourg.
The entire territory is divided into 5 touristic zones: the Ardennes, Moselle, Müllerthal, Red Earth, and Heart of the Blessed Country. The most popular city are Wiltz, Remish, Diekirch, Echternach, Clervaux and Vianden.
Luxembourg often holds different festivals and celebrations attracting many tourists.
The ecological tourists can go hiking or biking in the picturesque places of the city.
Restaurants and cafes offer the dishes inspired by the traditional Belgian cuisine.