Norway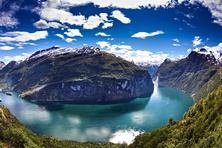 Norway or officially the Kingdom of Norway is a country in Northern Europe. It borders Finland, Russia and Sweden. The country is washed by the waters of the Arctic Ocean, the Barents Sea, the Norwegian Sea, the Greenland Sea and the Atlantic ocean. The capital city of Norway is Oslo.
The climate in Norway is temperate oceanic. For country holidays in Norway, visit the country from May to September. If you go to Norway to ski, plan your trip from November to March.
The majority of the population are the Lutheran Evangelists. The official language is Norwegian.
Norway is an ideal country for skiing. The most popular and famous ski resort is Lillehammer, the capital of Winter Olympic Games. Lillehammer consists of several resorts such as Gala, Gausdal, Kvitfjell  and Hafjell. The tourists can combine winter sports with a country holiday and visit the largest lake in Norway Mjosa which is located in the Gudbrand valley. Divers travel is the motto of Geilo resort. There they offer not only good ski trails but also excursions to national parks:  Hallingskarvet National Park и Hardangervidda National Park.
The Hemsedal resort attracts skiers and snowboarders. The Hemsedal is called the Scandinavian Alps. The tourists can try slalom, dog sledding, night skating and climbing. 
The fjords of Western Norway is a must-see.
Go to Oslo, Bergen and Tromsø for shopping and city entertainments. 
Get in
Regular air communication connects Norway and CIS and EU countries.
By Plane
The tourists from Russia can travel to Oslo from Moscow with Aeroflot. The Norwegian air carrier offers flights from St. Petersburg to Oslo.
These European airlines also offer flights to Oslo: Austrian Airlines with a stop in Vienna, Lufthansa from Frankfurt am Main, Swiss from Zürich, Brussels Airlines from Brussels, Air France from Paris and SAS from Copenhagen and Stockholm.
By Train
Norway has a railroad communication with Swiss and Danish Copenhagen.
By Ferry
An international ferry travels between Norway and Iceland, Great Britain, Germany and Denmark. 
By Land
You can travel to Norway by bus from Murmansk to Kirkenes
Visa
Norway is a party to the Nordic Passport Union which relates to the Schengen Agreement. The tourists from the countries which are not members of the Schengen area have to obtain a visa to travel to Norway. 
People who live in the Russian border area can travel to Norway without a visa on the condition that they do not travel outside a zone 30 to 50 kilometers from the border.
The citizens of the Republic of Karelia, Pskov region, Novgorod region and Leningrad region can submit the documents for a visa online and get it within 24 hours after visiting the Norway Consulate General in St. Petersburg. 
Customs
Norway does not play any restrictions on currency import and export. The sum more than 25.000 NOK must be declared.
The tourists can import duty-free the following goods:
perfume, alcohol and tobacco;
personal belongings;
souvenirs and gifts (the total cost should not exceed 6.000 NOK).
The tourists bringing their pets to Norway should obtain the international veterinary certificate.
It is prohibited to export from Norway:
foods with the total weight over 10 kg;
strong alcoholic drinks (over 60% of alcohol);
fresh vegetables and meat;
food for pets;
objects having cultural and historical value;
birds and animals under protection.  
Cuisine
The staple of authentic Norwegian cuisine is fish and seafood.
We recommend trying in this Nordic country smoked trout Torsk, Lutefisk (boiled trout with spices) and Klippfisk. Do not miss a chance to try Boknafisk (pickled herring with rinds and boiled potatoes), Sursild (pickled herring with onion) or Fiskemelje (chopped cod liver).  The lovers of seafood will enjoy fish meatballs Fiskeboller, pickled salmon Laks and smoked salmon Reklaks. Treat yourself to scallop stewed in milk, whale meat and shrimps Reker.
Meat dishes also gained popularity in the local cuisine. Order mouth-watering roasted pork ribs, schnitzels and stew, stewed mutton with cabbage, meatballs with a sauce Kjettboller, salted, dried and cured leg of lamb Fenalar and lamb Forikol. Roasted head of a sheep Smalahove will be a true discovery for food lovers. We also recommend trying venison and elk. A Norwegian specialty is a dish from partridge Rip.
Grains take an important place in the Norwegian cuisine.
Those who have a sweet tooth should try Norwegian pastry: apple trifle Tilslørte bondepiker, cinnamon buns Spillingboller, delicate souffle Fromage and egg mousse with berries Trollcream. Traditional cake Bletkake, Waffler and Norwegian crepes Svelle.
The Norwegians love coffee and drink it a lot. Apple drinks with honey are also very popular. 
The most popular alcoholic drinks in Norway are beer Ringnes and potato vodka Aquavit with cumin aged in wooden barrels. A truly winter drink is Grog made of red wine with spices. Grog is usually served with ginger cookies.  
Money
The national currency is Norwegian Krone (NOK).
We recommend exchanging currency at banks, in exchange offices at the Oslo Airport and railway stations. You will have to pay a commission 2-5% when exchanging the currency, so in Norway it is better to use plastic cards. 
In Norway, cashless payments became very widespread. The tourists can pay for the purchase with international credit cards. The cards are accepted everywhere. You can cash traveler's checks in post offices, travel agencies and banks. Some banks charge a fee for each check so we recommend having one check. 
In Norway, a tax-free system is available. If you purchased goods for the sum over 315 NOK, the money can be partly refunded. Do not forget to get a slip in tax-free stores and submit it when you leave the country. 16.25 of the total sum are refunded immediately. If a store does not work with tax-free system, the tourists can get a special form to submit it at the customs. Be aware, that in this case the items you bought should be in their original package. You will get 11-18% refund by post. 
Details of interest
Sightseeing in Norway
In the capital city Oslo, the tourists can see the Town Hall, visit the Museum of Resistance and walk across the Old Town near the Akershus Castle which was built in the 14th century. Frogner Park with the ensemble of sculptures by Gustav Vigeland, the Royal Palace and the Norwegian Maritime Museum are also of a great interest. Everyone can have a trip to the Bygdoy peninsula where there is a Viking Ship Museum and Kon-Tiki Museum with the exposition of boats of Thor Heyerdahl.
The main sight of Norway are, of course, fjords. Have a sea trip to the fjords region. You will be offered to go on an excursion to the deepest and the longest fjord in Europe Sognefjord. Geirangerfjord  and Nærøyfjord are included in the UNESCO World Heritage List. 
If you happen to be in Bergen, have a walk along the Old Port of Bryggen which is a hallmark of the city under UNESCO protection. The route Oslo – Bergen will show the tourists the longest Road Tunnel. Bergen is the start point for many excursions to the Land of Trolls. First, you will visit the Dyupsvati lake, Jostedalsbreen National Park and then the picturesque cliffs near Svelgen.
Nordland is the land in the Polar circle. Go to the Reysadalen waterfalls and visit the Caves in Rana. Plan your trip to the ancient cave drawings in Blasforde. Take a picture of local fjords, Meridian stone in Hammerfest and Green Grotto Caves with an underground waterfall.  
North Cape is the northernmost point in Europe. In Kirkenes, have a look at the King Oscar Chapel and St. George's Chapel, have a walk around the Øvre Dividal National Park.  
Rock paintings in Alta, Røros mining town, Urnes Stave Church, Struve geodetic Arc and Vega Archipelago are all under UNESCO protection.
Tromsø is the land of isles. Have a look at the Hologaland Theater and Arctic Cathedral made of glass and metal.
In Sør-Trøndelag, there is the Archbishop Palace and the Vikings settlements of the 8th-9th centuries. In Sør-Trøndelag, the Music Ringve Museum has been founded.
You will be impressed by your travel on Flamsbana mountain railway.
Norwegian Souvenirs
The tourists buy traditional wool handmade sweaters, scarves and traditional socks in Oslo.
In  Lillehammer, you can buy a Norge doll and a toy deer and moose, skins of these animals, fur goods and tapestry wool.
Norwegian cheese Brunost, flat bread Knekkbread are sold in Geilo.
Figurines of trolls, Christmas decorations, tableware with trolls can be bought in Bergen.
In any city of Norway, the tourists can buy antlers, wooden plates, and vases Rosemaling.