Lillehammer
Resort type:

Ski resort

Landscape:

Town, Mountains, Lakes, Coniferous Forest

What to do:

Aquaparks, Culinary Tourism, Downhill Skiing, Mountain Trails, Wellness Tourism, Hunting, Historical & Architectural Monuments, Hiking, Sport Tourism, Snowboarding, Festivals & Carnivals, SPA, Nightlife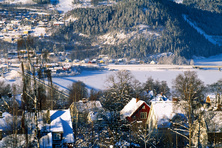 Lillehammer is a Norwegian city and a municipality in Oppland County in the east of the country. It is 180 kilometres away from Oslo and 40 kilometres away from Yevick.
The lovers of the excursion tourism choose Lillehammer who come to the city to get acquainted with the local historical and architectural monuments. The tourists can walk in the downtown and see the buildings that were built in the 19th century, visit the ethnographic museum Maihaugen and take a ride on the oldest paddle vessel in the world.
The city is very close to the largest in the country lake Mjosa and a picturesque valley Gudbrandsdalen. That is why Lillehammer is so popular with the ecological tourists. They can collect berries, mushrooms, herbs and explore forest or mountain ecological systems.
In winter, four centres of alpine skiing are working. Gausdal is families or children-friendly thanks to its flat trails and a well-developed infrastructure. Gala complex is known for its entertaining programs and attracts the youth. Kvitfjell and Hafjell are universal resorts. The extreme tourists will have a chance to go skiing and snowboarding, carting, sledding or skating, snow rafting, ski sailing. They can also go hiking in the mountains or go hunting.
Numerous concerts, fairs, exhibitions, contests on the occasion of the national holidays and festivals attract to Lillehammer thousands of tourists.
Mountain climate, clean air and favourable ecological situation have a positive effect on the well-being. In the hotel Skeikampen, there is a spa centre offering toning and relaxing spa treatments or a massage.
The restaurants Hvelvet, Nikkersn and Lillehammer Bryggeri serve original Norwegian dishes.
The most popular nightclubs are Brenneriet Nattklubb and Bryggerikjelleren.