Duszniki-Zdroj
Resort type:

Country resort

Landscape:

Town, Mountains, Riverside, Coniferous Forest, Hills

What to do:

Mountaineering, Cycling, Natural Parks & Reserves, Horse Riding, Wellness Tourism, Hiking, Caves, Rafting & Kayaking, Thermal & Mineral Springs, Festivals & Carnivals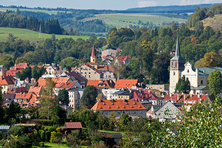 Duszniki-Zdroj is a Polish city in Lower Silesian Voivodeship and Klodzko County. It is situated on the shores of the Bystrzyca River in the south-west of the country close to the Czech Republic border. It is 110 kilometres away from Wroclaw and 470 kilometres away from Warsaw. The total area of the city is 22 square kilometres.
The Bystrzyca Mountains and the Orlice Mountains protect the city from blowing winds. Duszniki-Zdroj attracts the lovers of a wellness tourism because of its special microclimate and pure air. The healing properties of the waters in the local mineral sources were described in 1801. It is recommended to drink mineral water for the people who have gastrointestinal conditions, diseases of endocrine, nervous and cardiovascular systems. The tourists can go to salt-iodine caves and to replenish iodine deficiency in the body and prevent thyroid diseases.
There are no significant historical and architectural monuments in Duszniki-Zdroj. However, if you love excursions you can go to Museum of Papermaking. The tours around the territory of the Voivodeship are arranged and they include a visit to Wroclaw Town Hall, Cathedral of Saint John the Baptist and Fortress Klodzko. The main sights of the region are Churches of Peace in Jawor and Swidnica and Centennial Hall in Wroclaw. They have been inscribed in the UNESCO World Heritage List.
Unfortunately, there are no large malls in Duszniki-Zdroj. If you want to go shopping you'd better do it in Wroclaw. There are such malls as Galeria Dominikanska and Magnolia Park. There is no nightlife in Duszniki-Zdroj. The restaurants Kaskada and Pod Zlotym Kasztanem serve Polish cuisine.
The lovers of music come to Duszniki-Zdroj to take part in International Chopin Festival.
In the suburbs of Duszniki-Zdroj, the extreme tourists can have an adrenaline rush and go climbing. There is also everything you may need for rafting, biking, horseback riding and hiking.
The ecological tourists will surely enjoy their time in Stolowe Mountain National Park.