Jelenia Gora
Resort type:

City resort

Landscape:

Town, Mountains, Broadleaf Forest, Riverside, Coniferous Forest

What to do:

Mountaineering, Culinary Tourism, Downhill Skiing, Natural Parks & Reserves, Horse Riding, Wellness Tourism, Historical & Architectural Monuments, Hiking, Caves, Rafting & Kayaking, Festivals & Carnivals, Shopping, SPA, Nightlife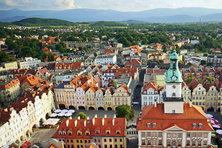 Jelenia Gora is one of the largest Polish cities in Lower Silesian Voivodeship. It is situated in the southwest of the country close to the Czech republic border. It is 110 kilometres away from Wroclaw and 290 kilometres away from Poznan. The total area of the city is 108 square kilometres.
The laconic architecture of the city and its historical monuments attract the lovers of the excursion tourism to the city. If you take a walk across Jelenia Gora you will see the City Hall, Church of Exaltation of the holy Cross and visit Gerhart Hauptmann House. But the main local sight is Chojnik Castle built in the 14th century. It is located on the top of the Mount Chojnik. Anyone can go on a study trip and see such UNESCO sites as Churches of Peace in Swidnica or Jawor and Centennial Hall in Wroclaw.
International Street Theater Festival attracts a lot of tourists to the city.
The ecological tourists can visit Stolowe Mountain National park and enjoy the beauty of the cliffs, gorges and mountain plateaus or go into the Bear Cave. Take a trip across the Voivodeship to enjoy Szklarki Waterfall and Kamienczyk Waterfall.
The mall Galeria Sudecka invites everyone to make purchases. If it is the nightlife you are after, then you are most welcomed in such nightclubs as Riverside and Riviera. The foodies will surely enjoy traditional Polish dishes in the restaurants Kuznia Smaku, Mazurkowa Chata and Motto.
A wellness centre Palac Paulinum offers toning and relaxing spa procedures.
The extreme tourists will have a lot of impressions if they go climbing. Rafting, horseback riding, and hiking are also popular with the active tourists. In winter, Czarna Gora Ski Resort welcomes everyone who likes winter activities.