West Pomeranian Voivodeship
Resort type:

City resort

Landscape:

Broadleaf Forest, Seacoast, Lakes, Riverside, Coniferous Forest

What to do:

Natural Parks & Reserves, Casinos, Wellness Tourism, Historical & Architectural Monuments, Yachting & Sailing, Hiking, Sport Tourism, Rafting & Kayaking, Surfing, Windsurfing & Kitesurfing, Thermal & Mineral Springs, Shopping, Nightlife, Tennis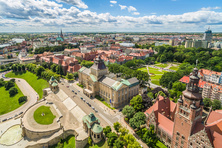 Pomeranian Voivodeship is a Polish administrative region with the total area of over 18.000 square kilometres situated in the north of the country. It has access to the Baltic Sea. It borders Kuyavian-Pomeranian Voivodeship, Warmian-Masurian Voivodeship and West Pomeranian Voivodeship. Gdansk is the administrative centre.
The lovers of beach holidays choose the Pomeranian resorts such as Gdyna, Ustka and Leba. The Baltic coast offers a lot of activities for the extreme tourists. For example, kiting, parasailing, diving, windsurfing, yachting and sailing. Fishing on the lakes of the region is very popular with the tourists. The tourists can also go on hiking and biking tours.
The wellness tourists will improve their well-being and health thanks to fresh air, favourable climate or good ecological situation.
If it is city entertainments you are after, then you should stay in Gdansk. There you will find Galeria Baltycka and Manhattan malls, Wykladziny Golf field, Rozi and Ewan nightclubs. The foodies will enjoy traditional Polish dishes in such restaurants as Ritz, Prologue and Pierogarnia Mandu.
The ecological tourists will want to visit Słowinski National Park or Tricity Landscape Park.
Age-old cultural traditions and preserved historical or architectural monuments make the region a popular destination for the excursion tourism. The tourists will see such sights as the Castle of the Teutonic Order in Malbork and take a walk in the Medieval Town of Torun. These sites are inscribed on the UNESCO World Heritage List.