Alpine lakes
Resort type:

Country resort

Landscape:

Mountains, Valley, Lakes, Coniferous Forest, Cliffs, Alpine Meadows

What to do:

Mountaineering, Cycling, Golf, Natural Parks & Reserves, Horse Riding, Wellness Tourism, Gliding & Paragliding, Rafting & Kayaking, Fishing & Spearfishing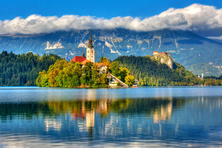 Alpine lakes is a resort in Slovenia located on the shores of Lake Bohinj and lake Bled.
Lake Bohinj which is of glacial origin really competes with Slovenian seaside resorts. In summer the region is popular with beach enthusiasts and those who prefer quiet family holidays away from bustling cities. The lake is located within the Triglav National Park and surrounded by the Julian Alps on three sides. Outdoor enthusiasts coming to Alpine Lakes can go fishing, rafting, canyoning, paragliding, hang gliding and alpine climbing. The region's rental centres offer all necessary equipment. Skiing centres are open in the winter time.
Those who are interested in excursions will be offered a tour of historical and architectural landmarks of Slovenia.
There are climatic health resorts and spas located on Lake Bled that will attract wellness enthusiasts. In winter the lake turns into a natural ice skating rink within easy reach of which the Ice Hall is open.
In summer Alpine Lakes is popular with ecotourists. Vacationers can rent a bike or a horse and take a tour of the picturesque surroundings of Bohinj or Bled. Outdoor enthusiasts can play tennis or golf on organised playgrounds.
Visitors to the region can try the best Slovenian dishes served at local cafes and restaurants.