Zielona Gora
Resort type:

City resort

Landscape:

Town, Valley, Broadleaf Forest, Riverside, Coniferous Forest, Hills

What to do:

Cycling, Culinary Tourism, Natural Parks & Reserves, Historical & Architectural Monuments, Hiking, Shopping, Nightlife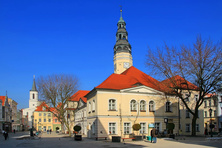 Zielona Gora is a city and one of the centres of Lubusz Voivodeship in western Poland. The resort city is located on the Oder River.
Holiday makers coming to Zielona Gora for excursion tourism can visit local attractions: the Savior NajSwietszego Church, the Zielona Gora Town Hall, the Glodowa Tower and the Catholic Church of Saint Jadwiga.
Located near the city, the village of Klopot is home to the White Stork Museum. Those who love these birds can see them nesting and explore the exhibition dedicated to the storks. The guided tour offers an opportunity to learn about the birds in their natural living environment. A holiday camp is located near the museum where outdoor enthusiasts can admire the region's scenery.
Ecotourists and their travel companions will enjoy visiting the Ujscie Warty National Park. The park is home to about 245 species of birds, of which 26 are listed on the Red List. Hikers and bike enthusiasts can enjoy hiking trails that offer the most exciting views of the nature reserve.
Active leisure lovers are invited to visit the MOSIR Sport and Recreational Center. The Palm House has become a popular place to go for a walk.
Shopaholics can have a wander round the shopping centre Focus Park. Culinary tourists should check out the city's restaurants, among which La Tulipe Noire, Casa Mia Trattoria and Wege Mena are worth a visit. Kawon Piwiarnia Pub and Zbrojownia Pub open their doors by night.