Yinchuan
Resort type:

City resort

Landscape:

Town, Mountains, Lakes, Riverside

What to do:

Culinary Tourism, Mountain Trails, Natural Parks & Reserves, Wellness Tourism, Historical & Architectural Monuments, Gliding & Paragliding, Yachting & Sailing, Sport Tourism, Festivals & Carnivals, Shopping, SPA, Nightlife, Religious Pilgrimage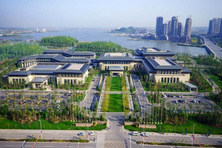 Yinchuan is the administrative centre of yhe Ningxia Hui Autonomous Region in China. It is situated between the Helan Mountains and the Huang the River in the north of the country not far from the Gobi Desert. Its total area is 4.467 square kilometres.
Staying in Yinchuan, the excursion tourists will get themselves acquainted with the local historical and architectural monuments. They will walk in the Old Town of Yinchian, visit West Pagoda and North pagoda, see Nanmen Tower.
Being a centre of Islam, the city attracts the pilgrims. They will visit Nanguan Mosque and Na Famhuan Ily Mosque. Not far from Yinchuan, there is the Great Wall of China which is under UNESCO protection.
The shoppers will have a great shopping experience at such malls as Xinhua Department Store, Lingzhou and Yinchuan Xinhua. At night King Divine Luck and Baby Face nightclubs open their doors. You will also find a bar Lian Yuan. The foodies will treat themselves to the typical Chinese delicacies in such restaurants as Xian He Lou, Yuan Yuan Shi Fu and Baisui Fish.
The main events in the city are annual Yinchuan International Car and Motorcycle Tourism Festival or Yinchuan Poetry Festival.
The ecological tourists should not miss a chance to go trekking in the Helan Mountains and explore the local ecological systems. They can also visit the Suyukou National Forest Park. Do not go past Yinchuan Botanical Garden.
Kempinski, Yuquanwan and Yinchuan East Lake hotels have modern wellness centres on site where the wellness tourists can have relaxing or toning spa treatments.
The extreme tourists will get a rush of adrenaline from rope jumping, paragliding, hang-gliding and parachuting. The active tourists can try their hand at yachting, windsurfing and kiting on the Shahu Lake.