Ypres
Resort type:

City resort

Landscape:

Town

What to do:

Cycling, Culinary Tourism, Diving & Snorkelling, Natural Parks & Reserves, Horse Riding, Wellness Tourism, Historical & Architectural Monuments, Gliding & Paragliding, Amusement Parks, Yachting & Sailing, Hiking, Festivals & Carnivals, Shopping, SPA, Nightlife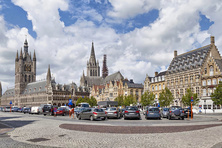 Ypres is a Belgian city situated in the northwest of the country not far from the French border. It is part of West Flanders Province and Flemish Region. Ypres is 65 kilometres away from Bruges and 31 kilometres away from Kortrijk. The total area of the city is 130 square kilometres.
A many-century history, historical and architectural monuments, which were preserved despite the destructions during the Second World War, make Ypres an attractive place for the lovers of the excursion tourism. They will see Saint George's Memorial Church, Saint Martin's Cathedral and Saint Peter's Church. In Ypres, there is a UNESCO site and it is Belfries of Belgium. If this is not enough, you can take a trip around the region and visit Historic Centre of Brugge or Flemish Beguinages.
Many people come to the city to honour the memory of their relatives, who were killed in numerous battles that took place in the city.
Festival of the Cats which annually takes place in Ypres helps to maintain the event tourism.
The North Sea is 35 kilometres away from the city. The extreme tourists prefer to come to the seacoast to try their hand at kiting, yachting, diving, parasailing or water skiing. The suburbs of the city are ideal for hiking, biking or horseback riding. If you want to get a rush of adrenaline, you can try paragliding or hang-gliding.
For the ecological tourists, group tours to Blankaart Nature Reserve are organized. They can also visit Westhoek Nature Reserve and Zwin Nature Reserve.
If it is city entertainments you are after, then you will have a great time in Tchouka nightclub, bars Charlies and Celona. In Ypres, there is Bellewaerde amusement park. The shoppers will have a great shopping in B-Park mall in Bruges. The foodies will surely enjoy their meals in Het Moment restaurant. Gasthof t Zweerd hotel has a wellness centre on site offering spa treatments.