Calcutta
Resort type:

City resort

Landscape:

Swamp, Town, Plain, Riverside, Tropical Forest

What to do:

Aquaparks, Cycling, Culinary Tourism, Golf, Natural Parks & Reserves, Wellness Tourism, Historical & Architectural Monuments, Amusement Parks, Hiking, Fishing & Spearfishing, Festivals & Carnivals, Shopping, Nightlife, Religious Pilgrimage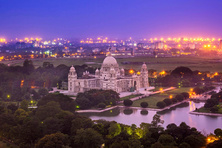 Calcutta is a city in India situated on the Ganges River in the east of the country. It is a capital city of the West Bengal State. The total area of the municipality is 185 square kilometres. The city is 1.500 kilometres away from New Delhi.
Holidays in Calcutta will be an unforgettable experience for the lover of the excursion tourism. The tourists will acquaint themselves with the local historical and architectural monuments, see unique museum exhibits, and visit ancient temples. The tourists can take a walk across the city, visit Victoria memorial hall, and see Fort William built by the British people. The tours to a famous Kalighat Kali Temple are arranged.
As there are many art expositions, book fairs, and regular festivals and celebrations, Calcutta has become a popular destination for the event tourism. This city attracts thousands of people from all over the world.
The extreme tourists will want to take a trip along the Hooghly River, go fishing or take an exotic tour to West Bengal. There are all the conditions for biking, playing golf and tennis.
Those who prefer the wellness tourism choose Calcutta because of Ayurveda and yoga tours. One of the most popular Indian medicine centres is Prasida Ayurveda Clinic in Calcutta.
Unusual fauna, picturesque nature, and city natural parks attract to Calcutta all those who love the green tourism. The tourists will surely want to go to the New Town Eco Park and watch the birds in the Chintamoni Kar Bird Sanctuary.
In the city, there are amusement parks and aqua parks, a zoological garden, and playgrounds for kids.
The capital city of the West Bengal State will not be a disappointment if you come here for shopping. You will find virtually any product at the city market and in such malls as Uttarapan and Dakshinapan.
The foodies can treat themselves to street Indian food and hallmark dishes of the chefs in the local restaurants.
Many night clubs are located in the city downtown.