La Gomera
Resort type:

Beach resort

Landscape:

Mountains, Island, Oceanfront, Tropical Forest

What to do:

Mountaineering, Culinary Tourism, Diving & Snorkelling, Natural Parks & Reserves, Historical & Architectural Monuments, Gliding & Paragliding, Yachting & Sailing, Hiking, Rafting & Kayaking, Fishing & Spearfishing, Surfing, Windsurfing & Kitesurfing, Festivals & Carnivals, Shopping, Nightlife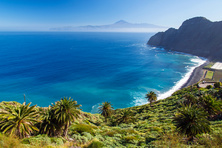 La Gomera is a Spanish island on the Canary islands in the Atlantic Ocean situated not far from the coast of Africa. Its total land area is about 370 square kilometres. Sun Sebastian de la Gomera has the functions of the administrative centre.
Natural diversity, marine and mountain landscapes make this place a popular destination for the ecological tourism. Hiking along the mountain trails in Garajonay National Park you will enjoy the laurel forest, see rare birds and bats. The National Park is a UNESCO site. The tourists ca go on a sea cruise and watch dolphins or whales.
If you prefer more comfortable holidays, you should choose the beaches in the Gran Rey Valle. The beach areas in a small Village Playa Santiago are ideal for the lovers of the extreme activities. The tourists can try their hand and parasailing, windsurfing, yachting, deep underwater fishing, diving, kitesurfing, water skiing. The active tourists also like to go on hiking tours in the local forests, rafting, paragliding and canyoning.
If you stay in the capital city, the malls Safari, Grand Sur and Siam Mall open their doors for you. There are a lot of bars, pubs and nightclubs in the hotels. The foodies will enjoy authentic seafood delicacies in such restaurants as Mantillo Los Chochos and Marea.
A favourable climate, sea air and unspoiled ecology make La Gomera an ideal place for the lovers of the ecological tourism. In the hotel Jardin Tecina, there is a wellness centre, which offers toning and relaxing spa treatment.
A traditional island holiday Bajada de la Virgen de Guadalupe is celebrated once in 5 years. It is famous all over the world and attracts a lot of tourists.
Those who prefers excursions will get acquainted with such historical and architectural monuments as Conde Tower, Church of Assumption of saint Sebastian of La Gomera, Saint Domingo Convent.