El Hierro
Resort type:

Beach resort

Landscape:

Mountains, Island, Oceanfront

What to do:

Diving & Snorkelling, Natural Parks & Reserves, Horse Riding, Wellness Tourism, Historical & Architectural Monuments, Gliding & Paragliding, Yachting & Sailing, Hiking, Caves, Fishing & Spearfishing, Surfing, Windsurfing & Kitesurfing, Festivals & Carnivals, Shopping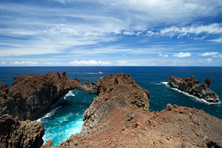 El Hierro is an island of volcanic origin with the total area of about 270 square kilometres. It belongs to the Spain's Canary Islands. The island is situated in the Atlantic Ocean not far from the shores of Africa. The city of Valverde is an administrative centre.
Seaside resorts including Sabinosa, Las Puntas and Tamaduste are perfect places for calm beach holidays. The local diving instructors will assist you to make your first dive. Anyone can learn to surf and water ski. There are all the conditions for yachting, fishing, parasailing, snorkelling, and windsurfing. There are interesting trekking routes in the Malpaso Mount which attract the tourists. The Mount stands right in the centre of the island. If you wish, you can try your hand at horseback riding and biking.
For the ecological tourists El Hierro offers lush vegetation and diverse underwater world. The tourists can also watch the animals. Do not miss a chance to take a tour around the island and you will see Don Justo Cave.
A traditional festival Descent of the Virgin of the Kings which takes place in September provides a rapid development of the event tourism in El Hierro.
If you prefer city entertainments you should stay in the capital city of the island. La Calle Street has a lot of shops. At night, you can go to bars or discos.
The foodies will enjoy the diversity of seafood dishes. The best local restaurants are El Refugio, Casa Goyo and Tasca La Laja.
The tourists can also take a tour around the island to see its main historical and architectural monuments. Anyone can also go to Tenerife Island and enjoy San Cristobal de La Laguna. It is a UNESCO site.
A very good ecological situation in El Hierro makes it a popular place among the wellness tourists who want to improve their well-being.