Karlovac
Resort type:

City resort

Landscape:

Town, Broadleaf Forest, Riverside

What to do:

Cycling, Boat Trips, Historical & Architectural Monuments, Yachting & Sailing, Caves, Sport Tourism, Rafting & Kayaking, Fishing & Spearfishing, Festivals & Carnivals, Nightlife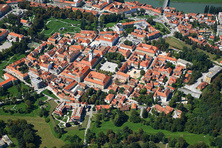 Karlovac is a capital city of Karlovac County. It is 56 kilometres away from Zagreb, the capital city of the country.
The lovers of the excursion tourism and nature choose Karlovac. The tourists will see Medieval castles such as Castle of Ozalj, Dubovac Castle. Dubovac Castle is situated on a hill and offers a fantastic view on Karlovac.
In the building of Franciscan Monastery, there is a Museum of Church Art. This monastery architectural complex includes Church of the Holy Trinity. The church was built in the 17th century. The most valuable elements are the marble altar of 1698 and the church bell of 1795.
On the central square of the city (Strossmayer Square), the tourists will see a Baroque palace of the 17th century. Today, there is a City Museum.
In the Katzler House, you will see amazing orangeries. Those who like performing arts should not go past Zorin Dom. In this mansion several performing groups show their performances, concerts, art exhibitions and art events.
The active tourists have a great choice of activities from rafting, kayaking to fishing and sailing. Kayaking tours are arranged by Terra Croatica Adventure. In Kanuing Kupa, you can rent a boat. The yachtsmen are most welcomed in Atlantis Yacht Club. The lovers of beach holidays should visit Foginovo bathing area by the Korana. They can play volleyball or tennis, basketball, bowling, ride scooters and catamarans, play water polo. The beach is equipped for disabled people.
Vrbanic Gardens arranges biking and horseback riding tours. If you love speleology we recommend you going to a karst cave Vrlovka. It extends 380 meters.
In the city, there is the largest brewery Karlovacka Pivovara. You will learn everything about the brewery technology, have an excursion around the factory. In a fitness centre Trend Wellness & Fitness, there is an indoor pool. The guests can go to the solarium and have a massage. If it is a nightlife you are after, then visit the club River Pub. A restaurant Kostanjac serves the Mediterranean cuisine. You can have a meal for an affordable price in a pizza restaurant Tiffany. Treat yourself to delicious desserts in Slatki Centar.