Cairns
Resort type:

Beach resort

Landscape:

Town, Mountains, Seacoast, Riverside, Tropical Forest

What to do:

Cycling, Diving & Snorkelling, Yachting & Sailing, Hiking, Sport Tourism, Rafting & Kayaking, Fishing & Spearfishing, Surfing, Windsurfing & Kitesurfing, Zoos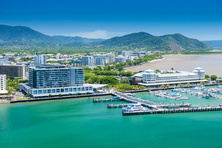 Cairns is a famous resort in Queensland, Australia. It is a popular centre of beach holidays and activities. Cairns is situated on the east of the Cape York Penninsula and it borders the Coral Sea on the one side and the Atherton Tableland, on the other side. The city is situated on the shores of the Barron River and Mulgrave River and its suburbs have an access to the Coral Sea.
Many tourists come to Cairns because of one of the seventh natural wonders of the world namely the Great Barrier Reef. One can see it either by scuba diving or by taking a boat trip. In addition to diving and snorkelling in Cairns the tourists can try surfing and kitesurfing, water skiing and go fishing.
Holidays in Cairns is a great opportunity to spend a lazy time on the sandy beaches. The most popular are the Holloways Beach, the Trinity Beach, and Ellis Beach. An emerald sea and shallow descent Cairns is an ideal place for family holidays.
If you do not like to stay in one place while travelling Cairns can offer a lot of entertainments. In the mountains, the tourists can try their hand at climbing, trekking, mountain biking, canyoning, rappelling, and rafting. Without leaving the city the tourists can go biking, horseback riding, jeep riding or play golf. If you want to feel an adrenaline rush you can go bungee jumping, fly a hot-air balloon or try paragliding.
Of course, if you stay in Cairns you cannot miss seeing its main touristic site – the Esplanade Boardwalk. There is a Swimming Lagoon close to it. This is a huge swimming where one can have a swim or sunbathe.
Those who prefer the ecological tourism can go to the Daintree Rainforest, the Paronella Park, and the Botanical Gardens of Cairns. Both children and adults will enjoy their time in the Tropical Zoo of Cairns.