Australia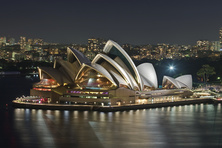 Australia is a unique country covering the entire area of the continent with the same name and several nearby islands including Tasmania. The capital city is Canberra.
The weather in the country is hot. In its southern part, the climate is temperate and tropical on the north. We recommend visiting the country during Australian summer when it is winter in Russia. The difference between day and night temperatures does not vary too much at this time.
The majority of the population are the Catholics and the followers of the Anglican Church. The official language is Australian English.
The lovers of beach holidays and surfing, diving, and underwater hunting can visit the Great Barrier Reef 2.000 km long, the Gold Coast and the most famous Australian beach Bondi Beach. The fans of skiing should head right to the states Victoria, New South Wales and to the Tasmania island with its unique Ben Lomond Plateau. Sydney offers many entertainments and a good shopping. The Queen Victoria Market in Melbourne is also a good place to buy things. If you like out-of-town tourism, we recommend visiting the Kakadu National Park, the Riverland Biosphere Reserve, and an unforgettable Barossa Valley.
Every tourist in Australia should visit Rock Aires, the only 'red' rocks in the world. This sacred part is also known by its Aboriginal name Uluru. It is included in the list The Seven Wonders of Australia. The Sydney Opera House and the Sydney Harbour Bridge are the must-sees in Australia.
Get in
The best way to travel to Australia is by plane. There are no direct flights between Moscow and CIS capitals and Australia. The tourists have to take transit flights with a stop in Asian hub airports in Singapore, Hong Kong, Seoul, and Bangkok. The flight will take you, at least, 18 hours. Sometimes the airlines offer special prices and you can take a transit flight with a stop in European cities and your travel to Australia will be a bit cheaper.
The Europeans are luckier because the leading airlines such as British Airlines, Austrian Airlines, Lufthansa, and Air France offer regular flights to Australia.
Visa
The tourists from EU and CIS countries must obtain a visa even for transit routes. The Europeans can obtain an e-visa within the program ETA (Electronic Travel Authority) for a short-term stay in Australia for three months or less. The citizens of Russia, Ukraine, Kazakhstan, Belarus, and Moldova can submit the documents for a visa online.
Be aware that you will not have any visa sticker in your international passport. All the information about the people who received the permit to enter Australia is kept in VEVO (Visa Entitlement Verification Online).
The tourists can pay a consular fee when submitting the documents for a visa or right in Australia.
Customs
Make sure you know what goods are allowed for import and export.
It is allowed to import duty-free:
Electronic equipment (notebooks and gadgets) provided that they will be exported from the country.
Souvenirs, watches, photo and video cameras, sports equipment and personal belongings the total cost of which must not exceed 900 Australian dollars.
Alcohol and tobacco.
Family duty-free benefits are valid.
The tourists must declare:
Money exceeding 10.000 Australian dollars.
Plants and animals. Special restrictions are valid for rare plants (orchids) and animals (snakes, turtles etc.).
It is prohibited to export:
Wild nature objects (shells, skins, sea shells, corals etc.).
Items having an artistic and cultural value (without a special permit).
Ready-made products from wild nature materials (bamboo, seashells, bones, and feathers).
Cuisine
Australia does not have its own authentic cuisine. The country can offer a bright mix of world national cuisines. The staple food in Australia is meat (the locals, especially like mutton, rabbit and a kangaroo), various seafood, fruits and vegetables (about 20% of the plants are edible here). Of course, we cannot but mention famous Australian wine which can compete with the best European wines.
If you strive for something exotic, try kangaroo with Quandong sauce, opossum beefsteak with rum or Australian beefsteak with bananas, a substantial pie with crocodile meat and a delicate rabbit stew with evaporated fish broth. The famous chicken Melbourne with various sauces, ostrich meatballs wrapped in bacon and Quandong Rowbumba (fat duck with orange, peach and brandy sauce) will make your mouth water. If these dishes are not exotic enough and you are ready to discover something even more unusual then try Witchetty, a dish of Australian Aborigenes which they cook from the bugs.
Try slightly roasted scallops with capellini (or angel hair pasta), trout with herbs and spices, sea pike with chutney, hot fish broths with shrimps, mussels, and oysters. There is a great choice of dishes for the lovers of seafood.
Velvety, muscat or sweet wines are produced in the northeast state of Victoria (Semillion, Tokay, Muscat). Aromatic wine, wines are produced in New South Wales (Chardonnay, Lindeman's, Miranda). The world famous Foster's beer has been produced in Melbourne since 1850.
Those who have a sweet tooth should treat themselves to a fantastic dessert Pavlova which was created in honor of a ballet dancer Anna Pavlova. Allow yourself to enjoy the Australian dessert Lamington.
We are sure that everyone will find his or her own favourite dish in Australia.
Money
The official currency in the Australia is Australian Dollar (100 cents). In circulation are:
5, 10, 20 and 50 cent coins;
1 and 2 dollar coins;
5, 10, 20,50 and 100 dollar bank notes.
We recommend exchanging currency at banks, bank offices or exchange offices American Express Singapore Money Exchange with 0% commission or Thomas Cook. Hotels usually offer too high exchange rates.
Private shops do not always accept credit cards and cash is the preferred method of payment. Traveler's checks and international credit cards are accepted in large cities and touristic centers. Learn the percentage for transactions beforehand.
The Tourist Refund Scheme is an Australian version of the tax-free system. It has some restrictions:
You are entitled to a refund if you made a purchase within 30 days before you leave the country;
The cost of a purchase must be over 300 Australian dollars in each sales receipt.
Details of interest
Customs and traditions in Australia
Each country has its own traditions, customs and way of life which can be totally different from what you might be used to. Australia is not an exception.
An Aussie, a slang term to name themselves, value individuality a lot. The eccentricity of the Australians can shock you at first.
The citizens of Australia are believed to be one of the most independent nations in the world. Young people try to leave the parents' home as soon as possible and the parents support this decision.
Forget about conservative English misters and misses. Life-loving and simple-minded Australians use first names or nicknames.
The Australians gather for a family dinner during national holidays. New Year, Christmas and the Anzac Day are a good reason for a family gathering.
Sightseeing in Australia
The Stone Wave is an ancient rock which is over 3 billion years.
Lake Eyre is covered with the salt crust, which is four meters thick.
Katoomba Scenic World is the steepest railway in the world.
The Healesville Sanctuary near Melbourne is the habitat for the most ancient animals in the world, a duckbill and echidna.
Australian Souvenirs
In the malls in Australia, the tourists can buy virtually everything you want.
Stay for longer in Sydney and visit the Rocks Markets where you can buy all the types of crafts, gifts, national costumes and souvenirs. If you stay in Canberra, go to the Old Bus Depot Markets and buy rare objects of Australian everyday life. The Queen Victoria Market is an ideal place for shopping as Melbourne itself. This city is considered to be the center of shopping.
Near the Barossa Valley, there are many vineyards. For a reasonable price, anyone can buy excellent Pinot Noir wines and amazing sparkling wines.