Kielce
Resort type:

Country resort

Landscape:

Town, Mountains, Broadleaf Forest, Coniferous Forest, Hills

What to do:

Mountaineering, Culinary Tourism, Downhill Skiing, Horse Riding, Wellness Tourism, Hunting, Historical & Architectural Monuments, Hiking, Sport Tourism, Fishing & Spearfishing, Snowboarding, Thermal & Mineral Springs, Nightlife, Religious Pilgrimage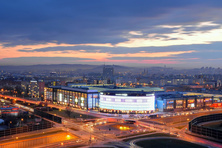 Kielce is a city and a capital of Swietokrzyskie Voivodeship situated in the Swiętokrzyskie mountains on the shores of the Silnica River in the central part of the Polish Republic. It is 115 kilometres away from Krakow and 180 kilometres away from Warsaw.
Kielce became a popular destination for the extreme tourism thanks to its modern trails, comfortable chairlifts and excellent touristic infrastructure of the local skiing resorts. The tourists can try snowboarding, mountain or cross-country skiing, sledding and snowshoeing. In summer, hiking and horseback riding tours are popular as well as climbing, trekking, biking, fishing and hunting.
The ecological tourists can go to the oldest park in the country. Staszica Park is situated at the foot of the Castle Hill. Its total area is about 7 Ha. Swietokrzyski national park is also a popular place with the tourists.
Founded in the 12th century, the city is an attractive place for those who prefer the excursion tourism. Walking excursion tours to the main historical and architectural monuments are arranged for the tourists. One can also take a trip to Warsaw and Krakow. The most interesting sights of the resort areTomasz Zelinsky palace, Market square and Museum of Kielce's village. The pilgrims should visit Holy Cross church, Church of Saint Adalbert and Saint Wojciech church.
The wellness tourists will surely want to visit Busko-Zdroj resort famous for its mineral springs and medicinal mud. The local balneological centres specialize in treating skin diseases, cardiovascular and locomotor system conditions.
The malls Galeria Echo, Planty Shopping Centre and Galeria Korona Kielce invite everyone to make purchases.
The foodies will treat themselves to the national Polish dishes in Ale Szama, Willa Hueta and Monte-Carlo.
The active nightlife will not make you bored. The best clubs in Kielce are UltraViolet, Pomarancza and Antrakt.