Kittila
Resort type:

Ski resort

Landscape:

Mountains, Broadleaf Forest, Lakes, Riverside, Coniferous Forest

What to do:

Cycling, Golf, Downhill Skiing, Natural Parks & Reserves, Carting & ATVs, Historical & Architectural Monuments, Hiking, Rafting & Kayaking, Snowboarding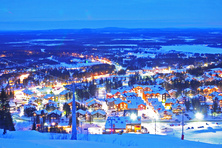 Kittila is a community in the north of Finland in Lapland. Kittila is a very popular touristic centre in Finland and a dream destination for many tourists.
The community is known for its skiing resort Levi which is situated at the foot of the Levi Mountain. Levi attracts both the beginners and experienced skiers because it offers trails with different level of difficulty. Levi is an ideal place for family winter holidays. There are 10 trails for children and a professional alpine ski school.
The active tourists can go mountain skiing, cross-country skiing, free riding, telemarking, snowboarding, tubing, ice climbing and skating. For the extreme tourists, there is a wide choice of activities such as safari on snowmobiles, motorcycles, dog and reindeer sledding, snowshoeing in the mountains.
Many people are very impressed by an unusual Levi Ice Hotel and Ice Gallery located within the resort.
The tourists who come to Kittila in summer, will enjoy an amazingly beautiful nature of the commune. You cannot go past Pallas-Yllastunturi Nationa Park with its fantastic mountain landscape of virgin forests and deep lakes. In the park, there are over 350 kilometres of hiking routes so you have a good chance to explore this territory. The tourists can also try their hand at kayaking, canoeing, biking or they can play golf.
During your trip to Kittila, you will visit such religious sites as Church of Kittila and Chapel of Saint Mary. The lovers of art can go to the Museum of Einari Junttila or Sarestoniemi Museum where they will see the works of the famous Finnish artists.