Clare
Resort type:

Country resort

Landscape:

Cove, Mountains, Broadleaf Forest, Lakes, Oceanfront, Riverside, Coniferous Forest, Bay Coast, Cliffs

What to do:

Cycling, Culinary Tourism, Golf, Natural Parks & Reserves, Wellness Tourism, Historical & Architectural Monuments, Gliding & Paragliding, Yachting & Sailing, Hiking, Caves, Sport Tourism, Surfing, Windsurfing & Kitesurfing, Shopping, Nightlife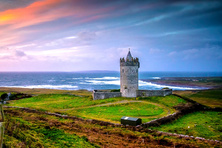 Clare is an Irish county with the total area of about 3.450 square kilometres situated on the coast of the Atlantic Ocean in the south-west of the country. It belongs to Munster Province. Clare borders County Galway, County North Tipperary and County Limerick. The capital city is Ennis.
The monuments of ancient civilisations are of a great touristic interest. During an excursion tour the tourists will see Caherconnell Stone Fort, Kilbaha Lighthouse, Bunratty Castle and Dromoland Castle. They can also acquaint themselves to the collection of Clare Museum.
The pilgrims should definitely visit Saint Flannan's Cathedral, Saint Senan's Church and Corcomroe Abbey.
A very beautiful nature of these places attracts the lovers of the ecological tourism. On the shore of the River Shannon in deciduous forests and coniferous woods, there are camps and resorts. The active tourists like to go biking along the Lough Derg Lake. Tours to Doolin Cave and Ailwee Cave are arranged for the tourists. You can also visit Burren National Park, which is a UNESCO candidate site.
If you stay in Clare you will surely feel yourself better thanks to clean mountain air and favourable climate.
The coastal areas of Clare including its administrative centre are very popular among those who loves beach holidays. The Doughmore Bay offers a wide range of choices for the extreme tourists from kiting, surfing, sailing, yachting to windsurfing and parasailing. If you want to feel an adrenaline rush you can try your hand at trekking, rope jumping and parachuting.
Restaurants in hotels serve typical Irish dishes. Restaurants in Ennis offer a large variety of British and European dishes. The best restaurants are Dining Room and Seasons.
If it is city entertainments you are after, there are golf fields, karaoke, shopping malls (Ennis Town and Carraig Donn), a night club Paddy Quinn's.