Knokke-Heist
Resort type:

Beach resort

Landscape:

Town, Seacoast

What to do:

Cycling, Culinary Tourism, Golf, Diving & Snorkelling, Natural Parks & Reserves, Casinos, Wellness Tourism, Historical & Architectural Monuments, Gliding & Paragliding, Sport Tourism, Rafting & Kayaking, Fishing & Spearfishing, Surfing, Windsurfing & Kitesurfing, Thermal & Mineral Springs, Festivals & Carnivals, Shopping, Nightlife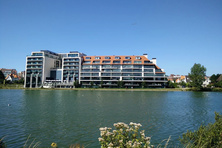 Knokke-Heist is a Belgian city in West-Vlaanderen Province and Flemish Region. It is situated on the coast of the North Sea in the north-west of the country. It is 49 kilometres away from Gent and 109 kilometres away from Brussels. The total area of the city is 37 square kilometres.
The lovers of the extreme tourism usually come here. The tourists can try trekking, parasailing, rope jumping, parachuting, rafting and kayaking on the Boudewijn Canal. The guests of Knokke-Heist can go fishing, hiking in the suburbs of the city or biking. On the local beach, there is everything and anything you need for snorkelling, sailing, yachting, windsurfing and diving.
If you prefer city entertainments, in Knokke-Heist, there are many bars, a casino Knokke, night clubs Knokke Out or Kitsch and such shopping malls as Edelweis Zelfbedieing, Delfood, Proxydip.
Traditional dishes of the Belgian cuisine are served in such restaurants as Bartholomeus, Bristol Brasserie and Royal Knokke.
The amazing nature of the suburbs of the city attracts the ecological tourists. They can visit Butterfly Garden Vlindertuin. Exotic tours to the West-Vlaanderen Province are arranged for everyone who would like to go to Nature Reserve Zwim, take a walk along the dunes in Willems Park and study the ecological system of salt marshes. Not far from Knokke-Heist, there is a golf field Royal Zoute.
If you prefer the excursion tourism, you will have a chance to visit Sincfala Museum or Freedom Museum and to see Sculpture of Alfred Verwee. During an excursion tour, you will see the main historical and architectural monuments.
International Fireworks Festival and Foto Festival attract a lot of tourists to the city.
The wellness tourists can have spa treatments in wellness centres at such hotels as Adagio and Huys Hoeve.