Koli National Park
Resort type:

Country resort

Landscape:

Mountains, Broadleaf Forest, Lakes, Coniferous Forest, Hills

What to do:

Culinary Tourism, Downhill Skiing, Natural Parks & Reserves, Horse Riding, Wellness Tourism, Gliding & Paragliding, Hiking, Caves, Rafting & Kayaking, Fishing & Spearfishing, Surfing, Windsurfing & Kitesurfing, Snowboarding, Shopping, SPA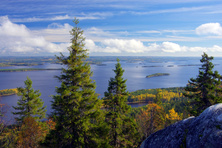 Koli National Park is a Finnish natural reserve with the total area of about 30 square kilometres. It is situated on the coast of the Pielinen Lake in the south-east of the country. It belongs to the North Karelia Region.
This unique reserve is one of the most popular centres of the ecological tourism in Finland. The tourists will see the animals typical for this region, walk along the Rylays Hill and go to Pirunkirkko Cave. The most interesting natural sight is Tarhapuro Waterfall.
The extreme tourists who visit the park have a great choice of activities. They can go horseback riding, climbing, biking, paragliding, parasailing, fishing and hiking on the Pielinen Lake. In winter, the park becomes a destination for the skiers who go to Ukko-Koli Ski Resort. The beginners should choose the trails of Loma-Koli Ski Resort.
On the territory of the Park, there are many campings, bungalows and chalets. The best are Kestikievari Herranniemi, Taiga Maja and KoliCarelia.
The wellness tourists can have spa treatments in Finnish saunas and have a massage in such wellness centres as Koli Spa Lotus or Koli Relax Spa.
The foodies will surely enjoy typical Scandinavian dishes in the restaurants Grill It, Vakka and Hitelli Puustelli.
In the city of Joensuu, you will have a great shopping experience. You will find practically any goods in the mall Kauppakeskus Iso Myy.
The only sight in the park is Rasavaara Observation Tower. If no holiday is complete for you without excursions, then take a tour around the region. You can visit Pielisen Museum and Ultra Outdoor Theater.
There is no nightlife in Koli.