Komarom-Esztergom
Resort type:

Country resort

Landscape:

Mountains, Broadleaf Forest, Lakes, Riverside, Coniferous Forest

What to do:

Culinary Tourism, Golf, Natural Parks & Reserves, Horse Riding, Historical & Architectural Monuments, Gliding & Paragliding, Yachting & Sailing, Hiking, Caves, Rafting & Kayaking, Fishing & Spearfishing, Surfing, Windsurfing & Kitesurfing, Festivals & Carnivals, Shopping, SPA, Nightlife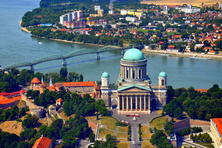 Komarom-Esztergom County is an administrative county (comitatus) with the total area of 2.260 square kilometres in the Central Transdunabia Region. It is situated in the valley of the Danube River in the north-west of Hungary. The county borders Gyor-Moson-Sopron County, Veszprem County, Fejer County, pest County and Slovakia. Tatabanya is an administrative centre.
The lovers of quiet holidays and the fans of the ecological tourism choose Komarom-Esztergom. The tourists can go to Budai Landscape Protection Area and Gerecsei Landscape Protection Area, which are situated in the Gerecse Mountains. One can also have a walk in a coniferous wood.
If you want to get some adrenaline, you can try rafting, lake windsurfing, yachting, kiting, paragliding and parachuting. The tourists can also go fishing on the Tata Lake. There are hiking trails for the tourists, a golf field Old Lake Golf and horseback riding routes.
Every year, this city holds the European Film Festival and the Festival of Friendship which attract a lot of tourists.
A favourable ecological situation and a clean air make Komarom-Esztergom a popular wellness tourism destination. The hotels Kristaly and Gottwald have wellness centres where the guests can have spa treatments.
You will have a good shopping in Tatabanya. You will find a great choice of products in such malls as Vertes or CBA Sztrada. At night, the clubs Roxxy, Vadorzo and Cicero open their doors. The foodies will surely enjoy their meals in such restaurants as Csulok Csarda, Kozponti Kavehaz and Hilltop Etterem. They serve the Hungarian cuisine.
The excursion tourists will see the Statue of King Saint Stephen, Turul Monument and Esztergom Cathedral. You can also take an excursion tour around the area to see the most significant historical and architectural sights.