Comino
Resort type:

Beach resort

Landscape:

Seacoast, Island, Flora of the Mediterranean

What to do:

Cycling, Diving & Snorkelling, Carting & ATVs, Horse Riding, Boat Trips, Historical & Architectural Monuments, Yachting & Sailing, Hiking, Fishing & Spearfishing, Safari, Surfing, Windsurfing & Kitesurfing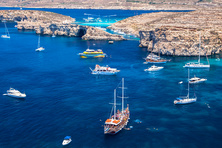 Comino is a tiny island which belongs to Maltese municipality Ghajnsielem. It is situated between the Malta Island and the Gozo Island. The total area of Comino is just three and a half square kilometres. Only four people are permanent residents of the island.
Comino is a perfect place for quietness and isolation. However, the active tourists will not get bored here. The clear waters of the Blue Lagoon attract the fans of diving and snorkelling. The tourists can also go sailing, yachting, surfing, kiteboarding, deep underwater fishing, aquabike and scooter riding or take a boat trip. If you need an adrenaline rush you can try your hand at skydiving, parachuting or hang-gliding. Families with children prefer to come to the Bay of Saint Nicholas. In Santa Marija Bay, you will find an isolated beach and a camping site.
Saint Mary's Tower is both a historical monument and the best viewing platform on the island. It was built in the 17th century as Maltese fortress. It will take you 40 minutes to get to the Tower. Another historical monument is Saint Mary Battery. The only iconostasion in Malta is in Saint Mary Chapel.
If you love nature and active holidays we recommend you going hiking along the valley Wied Skalanova which is a natural extension of the Blue Lagoon. Jeep safari and four wheel drive jeep tours are arranged for the tourists. Anyone can go biking or horseback riding.
There is the only hotel on the island – Comino Hotel & Bungalows. It is situated on the shore of Saint Nicholas Bay. The guests of the hotel can sunbathe on open terraces near the pool. For an additional feel you can play tennis on the court or have a relaxing massage. The hotel restaurant serves the international cuisine. For a Swiss buffet breakfast, you can have both sweet and savoury treats to your liking. There is a night club and a snack bar in the hotel.