Bezirk Krems-Land
Resort type:

Country resort

Landscape:

Mountains, Valley, Broadleaf Forest, Riverside, Coniferous Forest, Hills

What to do:

Aquaparks, Cycling, Culinary Tourism, Golf, Natural Parks & Reserves, Wellness Tourism, Historical & Architectural Monuments, Gliding & Paragliding, Amusement Parks, Hiking, Rafting & Kayaking, Fishing & Spearfishing, Surfing, Windsurfing & Kitesurfing, Festivals & Carnivals, Nightlife, Religious Pilgrimage, Zoos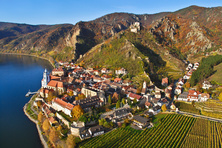 Bezirk Krems-Land is an Austrian district in the federal state of Lower Austria, located northeast of the country and having an area of 923.95 sq. km. The administrative centre is the town of Krems an der Donau, located 75 km from Vienna.
Numerous historical and architectural landmarks, museums, exhibition halls and galleries, as well as iconic sights, attract a number of excursion enthusiasts every year. Visitors to the region will be offered to take a tour of the medieval Gobelsburg and Ratschenhof castles, explore the exhibitions of the Wine Museum and visit the Beethovenhaus. Pilgrims spending their holidays in the region should visit the Church of Saint Veit and the Gottweig abbey.
Bezirk Krems-Land has become a popular centre of excursion tourism for its picturesque countryside and vast nature reserve areas. Vacationers can enjoy an exotic cruise along the Danube river, hike through the Kamptal Schonberg natural park or take a tour of the Wachau valley.
Event tourism enthusiasts come to Bezirk Krems-Land to see one of the region's festivals and holidays. The Glatt & Verkehrt festival and Juggling festival are the most visited ones.
When out of town, wellness enthusiasts can benefit from the therapy of the temperate climate and fresh air.
There are theme parks, playgrounds, a zoo and a waterpark in Bezirk Krems-Land that will be great for family holidays. Adult visitors to the district centre can visit Diamond Golf Club, Kremser Tennis club or they can go biking through the city.
In Bezirk Krems-Land extreme enthusiasts and their travel companions will have the possibility to go paragliding, rafting and kayaking, fishing and river surfing.
Culinary tourists can try the best Austrian dishes served at restaurants in large towns of the district.
Most nightclubs and bars can be found in downtown Krems an der Donau.