Kromeriz
Resort type:

City resort

Landscape:

Town, Riverside

What to do:

Natural Parks & Reserves, Historical & Architectural Monuments, Yachting & Sailing, Sport Tourism, Nightlife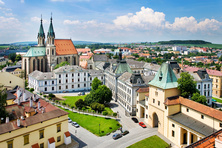 Kromeriz is a city in the Czech Republic. It is situated in a historic East Moravia region on the shore of the Morava River.
Cultural, historical and architectural monuments attract the lovers of the excursion tourism. Th main architectural sights are situated at the Kromeriz Central Square.
The tourist will see such UNESCO site as Flower and Castle Garden. Kromeriz Castle is the Archbishop's residence. The castle was built in the 13th century. Originally, it was a Gothic style building. However, it was destroyed several times during the wars. The modern castle was reconstructed in the Baroque style in the 13th century. The tourists can see the interior of the residence, visit the Chapel, a library and an art gallery founded by Carl II von Lichtenstein. The work by Titian is a treasure of the collection.
A park territory covers 64 Ha. In the park, there is a flower garden, labyrinth, octagonal rotunda, colonnades, 3 ponds and a Chinese pavilion.
A true masterpiece of baroque style in East Moravia is Saint John the Baptist Cathedral built in 1768. The tourists will also see Church of Saint Maurice and Church of the Assumption of the Virgin Mary.
On the first floor of Kromeriz Museum, there are the works of a Czech painter or a graphic artists and Max Švabinský. On the second floor, you will the exposition of the wild nature. In the cellar, they keep archaeological finds.
There is a wide choice of water activities such as rafting, kayaking, yachting, sailing and fishing. In Skatepark Kromeriz, anyone can ride skates. In Harmony Medical & Wellness, the tourists can have spa treatments. In Sportcentrum, there is a gym, a fitness centre, a pool and a sauna. You can also go shopping at the malls and the markets. Czech clothes is sold in Dressme Shop. You will find a wide choice of products for women in Fashion Intimate. If you are after the nightlife, then go to the Club Cabras.
You will try delicious Czech beer in Pivovar CERNY OREL. Treat yourself to sweets and desserts in Velo Cafe.