Kunming
Resort type:

City resort

Landscape:

Mountains, Broadleaf Forest, Lakes, Coniferous Forest, Cliffs

What to do:

Cycling, Golf, Natural Parks & Reserves, Historical & Architectural Monuments, Hiking, Caves, Tennis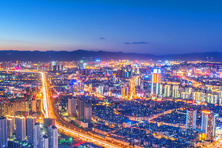 Kunming is a large city in the south-west of China. It is an administrative centre of Yunnan Province. The city is situated on the northern shores of the Dian Lake and it is surrounded by the Yunnan Highland. Due to this, the weather here is always warm and comfortable. Kunming has a second unofficial name "The city of eternal spring".
Unique natural resources in the suburbs of Kunming attract the ecological tourists and the city architecture delights those who prefer the excursion tourism. Everyone gets acquainted with the city from its hallmark site – the Arch of the Golden Horses and Green Rooster. It is decorated in authentic Chinese style. There are two main sights in Kunming. They are the two pagodas of the Tang dynasty built in the 9th century. These are Dongsi Ta and Xisi Ta. You should definitely visit the only Buddhist temple in the city Yuantong Temple and magnificent Golden Temple. The latter is a religious fully building made of bronze.
Th main destination of the ecological tourists is Stone Forest where they will enjoy the beauty created by nature itself. The tourists will see stone pillars which remind of huge stalactites, enjoy mountain lakes, waterfalls, grottoes and caves. Take a walk in Green Lake Park or Daguan Park and enjoy their fantastic landscapes.
The active tourists can go hiking in the mountains, climbing, mountain biking and biking. If you prefer something more steady, you can play golf on the best golf fields of Kunming, go fitness, swimming or play tennis and bowling.
If you want to learn more about the region, visit Jiuxiang Ethnic Village and Yunnan village where you will get yourself acquainted with the traditions and life of 26 Chinese nationalities. Kunming City Museum and Kunming Animal Museum are also of a great interest for the tourists.